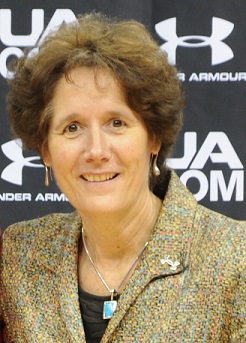 Gender, Competition, and Leadership: America's Unusual Experiment
KATHLEEN DEBOER
THURSDAY, FEBRUARY 13, 2014
LUNCHEON 11:30 a.m.; PROGRAM 12:00 p.m.
Over the course of a long career in sports and education, Kathy DeBoer has seen numerous changes in the attitudes of men and women toward both athletic competition and workplace pursuits. In her talk at the Athenaeum, she will identify how the genders look at competitive activities in contrasting ways and offer insights into new paradigms for leadership.

Kathy DeBoer is the author of the book, Gender and Competition: How men and Women Approach Work and Play Differently, which examines detailed suggestions on how men and women can communicate and understand their non-physical differences. James Baker Hall, a Professor of English at the University of Kentucky writes that, "Gender and Competition has some fine storytelling — crisp, dramatic, intense, deeply felt and understood. It's a very readable book, written from long experience and with keen intelligence."

DeBoer is a frequent speaker on campuses, as well as, to business and industry groups about keys to effective communication across and within groups of women and men. DeBoer is currently the executive director of the American Volleyball Coaches Association, a position she has held since 2006. She has also worked as a college coach, a fund raising professional, and a government appointee. DeBoer served as an advisor to the USA National Team from 1988 to 1996 and assisted with the 1996 Olympic Volleyball Team. She was also a member of the NCAA Management Council and served for 10 years as the chief fund raising officer of the University of Kentucky Athletics Association.

Ms. DeBoer's visit is sponsored by members of the Women and Leadership Alliance including: Applied Women's Studies at Claremont Graduate University, The Berger Institute for Work, Family, and Children, the Center for Writing and Public Discourse, CMS Athletics, the Dean of Students Office, Kravis Leadership Institute, Intercollegiate Feminist Center for Teaching, Research, and Engagement, the Marian Miner Cook Athenaeum, and the Robert Day School of Economics and Finance.