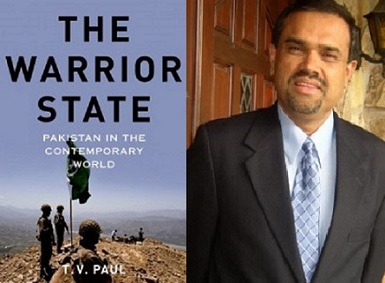 The Warrior State: Pakistan in the Contemporary World
T.V. PAUL
THURSDAY, FEBRUARY 20, 2014
Why, when countries across the developing world are experiencing rapid economic growth and building durable democratic institutions, has Pakistan been such a conspicuous failure? This is the central question of Professor T.V. Paul's latest book, The Warrior State: Pakistan in the Contemporary World, in which the author draws on history, international relations, religious studies, and sociology to analyze Pakistan's national security predicament. Paul argues that Pakistan's role at the center of major geopolitical struggles such as, between the United States and the Soviet Union and in the post-9/11 War on Terror has prevented Pakistan's progress in economic growth and democratic stability. According to Publisher's Weekly, "Paul lucidly and comprehensively explains the historical circumstances that led to 'a dearth of strong political leaders or political parties with a deep democratic sense of commitment' and created incentives for Pakistan's elite to pursue irresponsible policies... This sobering study will appeal to anyone interested in the region."

T.V. Paul is James McGill Professor of International Relations in the Department of Political Science at McGill University, Montreal, and a leading scholar of international security, regional security, and South Asia. He was a founding director of the McGill/University of Montreal Center for International Peace and Security Studies (CIPSS) during 2009-12.

A prolific author prior to the publication of The Warrior State, Paul penned 14 books including: Status in World Politics (co-edited, Cambridge University Press, 2014); Globalization and the National Security State (co-authored, Oxford University Press, 2010); The Tradition of Non-use of Nuclear Weapons (Stanford University Press 2009); India in the World Order: Searching for Major Power Status (co-authored, Cambridge University Press 2002); The India-Pakistan Conflict: An Enduring Rivalry (Cambridge University Press, 2005); and South Asia's Weak States: Understanding the Regional Insecurity Predicament (Stanford University Press 2010).