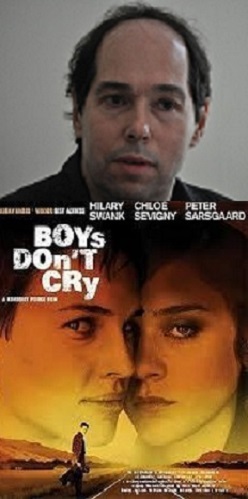 A True Story Talk: Some Thoughts on Writing Screenplays Based on Real Events
ANDREW BIENEN
FRIDAY, FEBRUARY 28, 2014
LUNCHEON 11:30 a.m.; PROGRAM 12:00 p.m. PARENTS DINING ROOM
Andrew Bienen is a screenwriter and professor of screenwriting. He cowrote the Academy Award winning and culturally significant Boys Don't Cry (1999) with Kimberly Peirce, the director of the film. Boys Don't Cry dramatized the real-life story of Brandon Teena, who was beaten, raped, and murdered by his male acquaintances after they discovered he was transgender. When it premiered in 1999, the film was met with widespread critical acclaim. Writing for The New York Times, Janet Muslin described the film as, "Moving inexorably, and with great innate suspense, toward disaster, it still savors the visions of transcendence and escape that Brandon Teena offered. Unlike most films about mind-numbing tragedy, this one manages to be full of hope."

In addition to his career as screenwriter, Bienen is also an Associate Professor of Screenwriting at Columbia University's Graduate Film School. Previously, he also taught at La Femis (Paris), New York University, and the New School.
Bienen has an MFA in Screenwriting from Columbia, and an M.A. in English from the University of Virginia. He has written screenplays for Dreamworks and New Line Cinema, and served as a story consultant at Miramax Films. He lives in New York City.

Andy Bienen's visit to campus and Athenaeum talk is sponsored by the Center for Writing and Public Discourse at CMC.