Athenaeum Location
Print Newsletter
March 10, 2014
Vol. 29, No. 10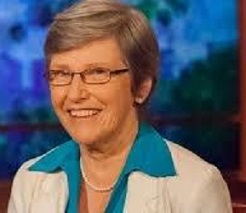 A Roundtable Discussion with Sister Simone Campbell
SIMONE CAMPBELL
TONY RAMOS, City Manager, Claremont, CA
LARRY SCHROEDER, City Council member, Claremont, CA
MAUREEN ALDRIDGE, CEO, Claremont Chamber of Commerce
SCOTT LEDERHAUS, president, Association for Medical Ethics
KERRY ODELL, professor of economics, Scripps College
MONDAY, MARCH 10, 2014
PROGRAM 10:00 a.m.
Sister Simone Campbell, leader of the "Nuns on the Bus" campaign for economic justice for Americans, will meet informally with community leaders in the Security Pacific Room of the Athenaeum. Coffee will be served.

As Sister Simone did on the "Nuns on the Bus" tours and at the 2012 Democratic National Convention, Sister challenges the faulty logic and erroneous opinions that undermine Christian social teaching. In 2012, Sister Simone was instrumental in organizing the famous "Nuns on the Bus" tour of nine states to oppose the "Ryan Budget," sponsored by WI Congressman Paul Ryan, a Catholic, and approved by the US House of Representatives. Had this budget gone into effect, it would have decimated programs meant to help people in need. Another "Nuns on the Bus" tour in 2013 focused on comprehensive immigration reform.

As a religious leader, attorney, poet and Executive Director of NETWORK, Sister Simone has extensive experience in public policy and advocacy for systemic change. In Washington she lobbies on issues of peace-building, immigration reform, healthcare and economic justice. Around the country, Sister is known as a dynamic speaker and prominent educator on these and other public policy issues.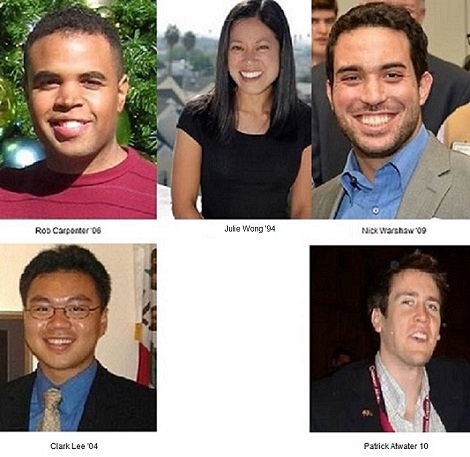 The Center for Civic Engagement Presents Young Alumni in Public Service
PATRICK ATWATER '10
ROB CARPENTER '06
CLARK LEE '04
NICK WARSHAW '09
JULIE WONG '94
MONDAY, MARCH 10, 2014
Patrick Atwater '10 is passionate about good government in California. He has served as an analyst for multi-billion dollar infrastructure projects, as an advocate for effective and honest government, and as a catalyst for using virtual tools to support teacher learning. In addition, he has researched and developed quantitative models for the $13 billion Bay Delta Conservation Plan, conveyance construction and environmental mitigation, and several multi-million dollar public-private partnerships. He serves on the Board of the Los Angeles Education Partnership, leading the conceptualization, design, and initial implementation of the LAEP viral project – an effort to creatively implement technology solutions to improve education in Los Angeles. He's also the author of numerous essays on how to bring California's famous pioneering spirit into the public sector, including his book A New California Dream which was published in 2011.

Rob Carpenter '06 is a serial 'hybrid entrepreneur': venture capitalist, professor, writer, public speaker and social activist. While at CMC, he worked in the White House Office of Political Affairs, for a former U.S. House Speaker, and wrote for multiple student publications. Post CMC, he has served as the Special Assistant to the CEO of Teach For America; was appointed as the youngest Commissioner of Transportation in the history of Los Angeles at 24 years old, where he saved over 100 ambulance worker jobs and exposed more than $217 million in fraudulent City funds, as reported by the Los Angeles Times; served as a leader in passing a $40 billion ballot measure to build Los Angeles's "Subway to the Sea"; and has served as professor of innovation at California State University, Los Angeles. He has founded numerous ventures, including a multi-million dollar startup named an "Emerging Technology Company of the Year" by Tech America, the Global Innovation Fellows, and more recently a venture capital firm that will be launching an asteroid-mining company. Rob holds a Master's Degree from Northwestern University and his writings and ventures have appeared in The New York Times, People Magazine, CNN, NBC, ABC, and Bloomberg BusinessWeek.

Clark Lee '04 is the Political Director of the Los Angeles County Democratic Party (LACDP), the largest local Democratic Party entity in the nation, representing more than 2.4 million Democrats. He oversees endorsement, campaign, and communications operations. An award-winning campaign professional, Lee specializes in targeted communications, field operations, voter education, and voter rights advocacy. He has worked with many nonprofit organizations, government agencies, and political campaigns at presidential, gubernatorial, statewide, Congressional, legislative, and local levels as a staff member, consultant, or advisor since 2001. Among other roles, he also serves as Chair of the California Democratic Party Asian Pacific Islander Caucus and was a Democratic National Convention delegate for President Barack Obama in 2012. He has been named a "Rising Star" by the Campaigns & Elections magazine.

In true CMC fashion, Nick Warshaw '09 is a committed "government jock." Currently a law student in UCLA Law's Public Policy and Law program, Nick has worked in politics since a young age. Most recently, Nick served as Communications Director at Rally.org, the online fundraising platform designed to empower users to fundraise and build social awareness on a large scale. Nick began working on campaigns in high school, beginning with Senator Boxer's 2004 reelection efforts. Through CMC's Washington DC program, he served in then House Speaker Nancy Pelosi's Office,. Nick was elected and served two terms as the President of the California College Democrats. In 2008, he coordinated earned media for President Obama's 2008 Campaign's communications operation in Missouri. Before joining Rally.org, Nick was the Government Relations Deputy for stem cell research at California's State Stem Cell Institute, the largest funder of stem cell research in the world. Nick is active in non-profits and political organizations throughout California. He serves as a partner for the Truman National Security Project and is a former fellow and board member of the New Leaders Council.

As Director of Corporate Citizenship for Walt Disney Parks and Resorts, Julie Wong '94 works with the company's theme parks, resorts, and other vacation businesses around the world to develop and implement strategies for philanthropic giving, environmental stewardship, issues management, and stakeholder engagement. Prior to joining Disney, Julie led communications efforts for a number of elected officials and political candidates, including U.S. Senator Barbara Boxer, Congresswoman Jane Harman, and L.A. City Councilmember Eric Garcetti. As Deputy Mayor for Communications to L.A. Mayor Jim Hahn, she helped craft communications strategies during critical junctures in the city, including the terrorist attacks of September 11 and the hiring of Police Chief Bill Bratton. Julie credits CMC's Washington Semester Program and Professor Jack Pitney's American politics classes for sparking her interest in pursuing a career in public service. She holds a bachelor of arts in government from Claremont McKenna College and a master's degree in Public Policy from Harvard University.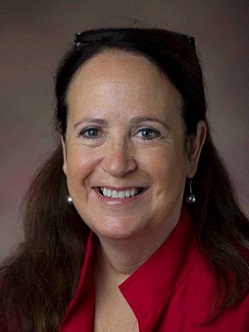 California Water Policy- The Challenges Ahead
FELICIA MARCUS
TUESDAY, MARCH 11, 2014
LUNCHEON 11:30 a.m.; PROGRAM 12:00 p.m.
Felicia A. Marcus has been an environmental leader, inside and outside of government, since the 1980s. She was appointed chair of the State Water Resources Control Board in April 2014 by Governor Jerry Brown, and has served on the Board since July 2013.

Marcus grew up in the San Fernando Valley suburbs of Los Angeles before heading east to attend college. She graduated from Harvard University in 1977 with a Bachelor of Arts in East Asian Studies. She received her Juris Doctor degree in 1983 from New York University School of Law, where she was a Root-Tilden Fellow. She also studied at Hong Kong University on a Rotary Foundation Fellowship. She worked for years as a public interest lawyer and community organizer in Los Angeles—focusing on air, water, toxics and land use matters—and was a founder of Heal the Bay, an organization that successfully pressured the City of Los Angeles to reduce its dumping of poorly treated sewage into Santa Monica Bay.

In 1993, she was appointed by President Clinton as the Regional Administrator for the U.S. Environmental Protection Agency. In 2001, she assumed the position of Chief Operating Officer for the Trust for Public Land and in November 2008, she became the Western Director of the Natural Resources Defense Council (NRDC), a nonprofit environmental action group of over 350 lawyers, scientists and other professionals dedicated to preserving the Earth's natural systems. During her tenure there, Governor Arnold Schwarzenegger appointed her to the Delta Stewardship Council in July 2010.

Marcus currently serves and has served in the past on many non-profit boards and Advisory Councils including the Public Policy Institute of California, Urban Habitat, Kesten Institute for Public Finance and Infrastructure Policy, and the Center for Diversity and the Environment. She is also currently an Obama Administration appointee to the Commission on Environmental Cooperation-Joint Public Advisory Council (US, Mexico, Canada).

Felicia Marcus's Athenaeum presentation is second in a series on Environmental Leadership sponsored by the Roberts Environmental Center and the Kravis Leadership Institute. Subsequent lunch speakers include Thomas Steyer, Climate Change Activist on April 22nd and Mary Nichols, Chair, California Air Resources Board on May 6th.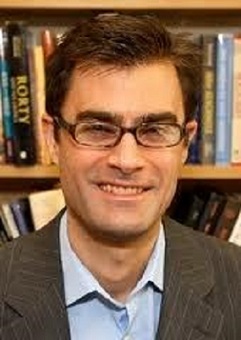 Is Islam a Religion? The Politics of American Religion
RICHARD AMESBURY
TUESDAY, March 11, 2014
Richard Amesbury is Professor of Theological Ethics and Director of the Institute for Social Ethics at the University of Zurich. His work focuses on ethical and political questions having to do with religion in the modern world. His current book project, Secular State and Religious Nation (under contract with Columbia University Press), examines political uses of the secular-religious distinction in contemporary American culture.

Prior to Secular State, Amesbury published two books: Morality and Social Criticism (Palgrave Macmillan, 2005) and Faith and Human Rights (Fortress, 2008). Professor Guy Stock writes of Morality and Social Criticism, "Richard Amesbury has produced an excellent book. . . . Amesbury's central project is to preserve –- as Rorty's pragmatism self-admittedly cannot –- the rationality of radical criticism within the spheres of moral, political and religious thought and action. In doing this he finds himself confronting issues that relate quite generally to the nature of rationality and these he takes to be linked inextricably to the philosophy of language and to be fundamentally logical."

Presently, Prof. Amesbury serves on the steering committees of both the American Academy of Religion's Religion and Politics Section and Law, Religion, and Culture Group and chairs the AAR's Awards for Excellence in the Study of Religion.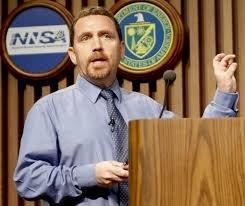 The Evidence for a Discernible Human Influence on Global Climate
BENJAMIN SANTER
WEDNESDAY, MARCH 12, 2014
Benjamin Santer is an atmospheric scientist at Lawrence Livermore National Laboratory (LLNL). His research focuses on such topics as climate model evaluation, the use of statistical methods in climate science, and the identification of natural and human "fingerprints" in observed climate records. Santer's early research on the climatic effects of combined changes in greenhouse gases and sulfate aerosols contributed to the historic "discernible human influence" conclusion of the 1995 Report by the Intergovernmental Panel on Climate Change (IPCC). His recent work has attempted to identify human fingerprints in a number of different climate variables, such as tropopause height, atmospheric water vapor, the temperature of the stratosphere and troposphere, ocean heat content, and ocean surface temperatures in hurricane formation regions.

Santer holds a Ph.D. in Climatology from the University of East Anglia, England. After completion of his Ph.D. in 1987, he spent five years at the Max-Planck Institute for Meteorology in Germany, where he worked on the development and application of climate fingerprinting methods. In 1992, Santer joined LLNL's Program for Climate Model Diagnosis and Intercomparison (PCMDI).

Ben Santer served as Convening Lead Author of the climate-change detection and attribution chapter of the 1995 IPCC report. His awards include a MacArthur Fellowship (1998), the U.S. Department of Energy's E.O. Lawrence Award (2002), and membership in the U.S. National Academy of Sciences (2011). His lecture is part of a semester-long series on environmental leadership. In his talk, Santer will respond to Dr. Patrick Michaels' Athenaeum lecture on February 19.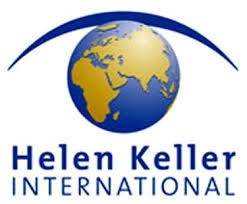 Helen Keller International: 2014 Henry R. Kravis Prize in Leadership
KATHY SPAHN
THURSDAY, MARCH 13, 2014
LUNCHEON 11:30 a.m.; PROGRAM 12:00 p.m.
Founded in 1915 by Helen Keller and George Kessler, Helen Keller International (HKI) is among the oldest international nonprofit organizations devoted to preventing blindness and reducing malnutrition. Headquartered in New York City, HKI works in 22 countries in the Africa and Asia-Pacific regions, as well as the United States. Of the estimated 285 million people who are blind or visually impaired, 80% of them do not have to be, according to the nonprofit. Nearly two billion people suffer from malnutrition caused by a lack of basic nutrients in their food, which can stunt physical and mental health, and causes blindness.

By effectively focusing on two critical, interrelated areas — preventing blindness and malnutrition — HKI has remained well-focused, developed incredible expertise, sustained well-coordinated programs, and become a global leader in its field.

Ms. Kathy Spahn is the president and chief executive officer of Helen Keller International and works closely with the organization's Board of Trustees, global leaders in public health, staff members throughout the agency, partner organizations, and HKI supporters. Ms. Spahn serves as chair of the board of directors of InterAction. She is also a member of the boards of directors of the International Agency for the Prevention of Blindness (IAPB) and The Bernadotte Foundation for Children's Eyecare. She is a founding board member of both the North America chapter of IAPB and the Association of Nutrition Services Agencies, and a founding partner of the Global Network for Neglected Tropical Disease Control. Ms. Spahn also serves on the Partnership Council of GAIN and on the 2020 and Strategic Advisory Council of the International Food Policy Research Institute. She joined HKI in March 2005.

Helen Keller International is the 2014 recipient of the Henry R. Kravis Prize in Leadership. In its ninth year, The Kravis Prize identifies extraordinary leaders in the nonprofit sector and celebrates their accomplishments. It aspires to impact the nonprofit sector overall by lauding strong performance and sharing recipients' best practices with others. The Kravis Prize is presented and administered by Claremont McKenna College and Marie-Josée Kravis and Henry R. Kravis '67, a member of the CMC Board of Trustees. Mrs. Kravis is an economist and a senior fellow of the Hudson Institute; Mr. Kravis is the founding partner of Kohlberg Kravis Roberts & Co. The Kravis Prize also is affiliated with the Kravis Leadership Institute at CMC.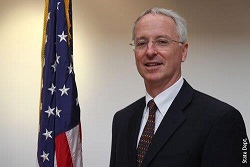 The Future of Diplomacy
CAMERON MUNTER
MONDAY, MARCH 24, 2014
Cameron Munter was the U.S. Ambassador to Pakistan until July 2012. Over a two-year period he guided U.S.-Pakistani relations through a succession of crises (including the Ray Davis affair and the operation against Osama bin Laden), while leading a 2,500-employee embassy. He previously served as U.S. Ambassador to Serbia, where he negotiated Serbian domestic consensus for European integration and managed the Kosovo independence crisis. Ambassador Munter also served as Deputy Chief of Mission at the U.S. Embassy in Baghdad, overseeing U.S. civilian and military cooperation in planning the drawdown of U.S. troops; and as Deputy Chief of Mission in the Czech Republic and Poland, where he managed the American contribution to those countries' integration into Western civilian and military institutions.

On earlier tours, Ambassador Munter established the first provincial reconstruction team in Iraq (in the city of Mosul); served as Director at the National Security Council under Presidents Clinton and Bush; was Executive Assistant to the Counselor of the State Department; and served as Chief of Staff of the NATO Enlargement Ratification Office at the State Department and in other diplomatic assignments in Washington and overseas. He is the recipient of the Gold Medal of the Polish Army and the Czech Republic's Masaryk Medal. He earned a Distinguished Honor Award, four Superior Honor Awards and seven Senior Performance Pay Awards from the Department of State. He has advised the Diplomatic Academy in Vienna and was Dean Rusk Fellow at the Institute for the Study of Diplomacy at Georgetown University in Washington. Before joining the Foreign Service, Ambassador Munter taught European history at the University of California in Los Angeles and directed European studies at the Twentieth Century Fund (now The Century Foundation) in New York.

Ambassador Munter is from Claremont, California. He graduated magna cum laude from Cornell University in Ithaca, New York, and was awarded a doctoral degree in modern European history from the Johns Hopkins University in Baltimore, Maryland. In January 2013, Ambassador Munter became professor of international relations at Pomona College. He is concurrently non-resident fellow at the Kennedy School of Government at Harvard University.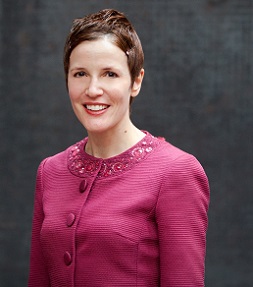 'Our Mothers, Our Fathers': One German Town in the Records of the ITS
SUZANNE BROWN-FLEMING
TUESDAY, MARCH 25, 2014
LUNCHEON 11:30 a.m.; PROGRAM 12:00 p.m.
Suzanne Brown-Fleming is Director of Visiting Scholar Programs at the United States Holocaust Memorial Museum's Center for Advanced Holocaust Studies (CAHS) and a former Center Fellow (2000). The Division of Visiting Scholar Programs is responsible for three major initiatives: (1) the visiting fellows program, including invitational scholars, an annual worldwide fellowship competition, and summer graduate research assistantships; (2) promotion of the scholarly use of the International Tracing Service (ITS) Archives, held in digital form at the USHMM; and (3) coordination of the Museum's partnership with Yahad-In Unum (Paris) and other key international institutional partners.

Her book, The Holocaust and Catholic Conscience: Cardinal Aloisius Muench and the Guilt Question in Germany, was published in 2006 by the University of Notre Dame Press in association with the Museum. Her book was among the 2006 University Press Books Selected for Public and Secondary School Libraries by the American Association of University Presses (Category of Religion). Her book chapters, essays, and articles have appeared in the New Catholic Encyclopedia, the Lessons and Legacies volumes, H-German daily internet forum, and the scholarly journals Holocaust and Genocide Studies, Journal of Ecumenical Studies, Kirchliche Zeitgeschichte (Contemporary Church History), and Religion in Eastern Europe. She sits on the Executive Council of the American Catholic Historical Association (2012 to 2014 Term) and the Editorial Board for the Contemporary Church History Quarterly (CCHQ).

Dr. Brown-Fleming is currently completing the manuscript "Imagining ITS: The International Tracing Service Holdings and 21st Century Holocaust Scholarship" (working title). Her other research project, "Eugenio Pacelli and the German Catholic Bishops, 1933-1939" (working title) is based on the Vatican Secret Archive materials opened to researchers in Rome in February 2003. The Museum holds the only microfilm copy of these records worldwide.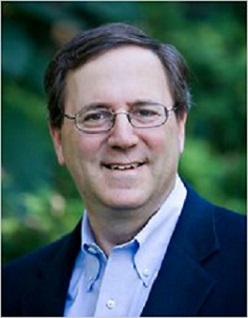 America on the Offense and Defense in Cyberspace: Is It Possible to Balance Security, Innovation, and Privacy?
DAVID SANGER
TUESDAY, MARCH 25, 2014
Cybersecurity has become one of the most complex national security policy challenges for the United States government. In recent years, the United States has effectively deployed its offensive cyber capabilities in fighting terrorism and nuclear proliferation. However, the nation has also been subjected to repeated cyber attacks from state-sponsored groups and criminals. How can the U.S. government gain the necessary political support and public trust to formulate an effective cybersecurity policy that meets its needs for both offensive and defensive purposes?
-David Sanger

David E. Sanger is Chief Washington correspondent of The New York Times. Mr. Sanger has reported from New York, Tokyo and Washington, covering a wide variety of issues surrounding foreign policy, globalization, nuclear proliferation and Asian affairs. Twice he has been a member of Times reporting teams that won the Pulitzer Prize.

Before covering the White House, Mr. Sanger specialized in the confluence of economic and foreign policy, and wrote extensively on how issues of national wealth and competitiveness have come to redefine the relationships between the United States and its major allies.

Mr. Sanger appears regularly on public affairs and news shows. He is a member of the Council on Foreign Relations and the Aspen Strategy Group.

His most recent books are Confront and Conceal: Obama's Secret Wars and Surprising Use of American Power (2013) and The Inheritance: The World Obama Confronts and the Challenges to American Power (2009).

Born on July 5, 1960, in White Plains, N.Y., Sanger was educated in the public school system there and graduated magna cum laude from Harvard College in 1982. David Sanger's visit to CMC is sponsored by the Keck Center for International and Strategic Studies.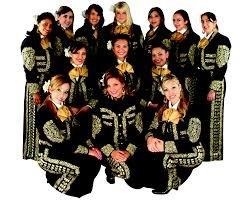 Mariachi Divas: A Musical Celebration in Honor of Cesar Chavez
CINDY SHEA, trumpet, founding director
BETO JIMENEZ, musical director
ROSALIE RODRIGUEZ, violin, vocals
CATHY BAEZA, violin
DANIELA GUITERREZ, guitarron
MELINDA FRANCES, congas, percussion
JILLIAN KARDELL, violin
JASMINE LOPEZ, violin, vocals
STEPHANIE MARTINEZ, violin, vocals
WENDY ALARCON, vihuela, vocals
ANIANA MEJIA, flute, vocals
SABRINA RODGERS, trumpet
ALISSA GONZALES, violin, vocals
KARINA ZURITA, guitar, vocals
THURSDAY, MARCH 27, 2014
The Mariachi Divas, an all-female, Grammy winning multi-cultural ensemble, will perform at the Athenaeum in celebration of Cesar Chavez's birthday.

Formed in 1999, the Mariachi Divas have performed at the Arrowhead Pond, Universal Amphitheatre, and the Staples Center, and have worked with Grammy-winning artists Joan Sebastian, Marco Antonio Solis, and Paulina Rubio. Although mariachi is the root of the group's music, the Divas' distinctive sound comes from its blending of traditional instrumentation the guitar, vihuela, guitarron, violins, and trumpets with timbales, congas, bongos, tambora, percussion, tres and flute.

The Mariachi Divas have recorded six CDs, the latest being Viva la Diva (2010) and 10 Aniversario (2009) in honor of their first ten years together. In 2009, they won a Grammy Award for Best Regional Mexican Album for their Canciones de Amor CD (2008). That was also the first time that an all-female mariachi troupe has ever been nominated for and won a Grammy Award.

The Divas first performed at the Athenaeum in honor of Cesar Chavez Day in 2004. To sample their music, check out the website: http://www.mariachidivas.com. You will not want to miss this Athenaeum tradition.
ATHENAEUM ETIQUETTE
The Athenaeum serves as a gathering place where ideas, inquiry, and fellowship bring students, faculty, staff, other scholars, and nationally prominent speakers together.



Attendance at any event may be limited to persons associated with CMC, to the people who signed up for the dinner, or to the maximum number of people allowed by fire regulations.



On some occasions the speaker may address the group in another forum or the College may set up a video feed to handle an overflow crowd. All programs at the Athenaeum are filmed. Individuals attending should understand that their image might appear on the videotape.



House rules and common courtesy prohibit disruptive actions inside the building during an Athenaeum sponsored program.



Time allowing, there will be a period set aside for questions. Students will have priority during this portion of the program.



Guests are expected to dress appropriately in all dining rooms. Shorts, jeans, and t-shirts are not acceptable at dinner; more casual attire is acceptable for lunch and tea. No bare feet at any time.
MARIAN MINER COOK ATHENAEUM
RECORDING POLICY
It is the policy of the Marian Miner Cook Athenaeum that no lecture, appearance or performance by any speaker or performer at the Athenaeum is to be videotaped, audiotaped, or otherwise recorded and/or broadcast without the prior written permission of the relevant speaker, performer, or other authorized owner of the intellectual property rights to the event.



Anyone requesting permission to record an event is required to submit an "Event Recording Request Form" to Bonnie Snortum, the Director of the Athenaeum, at least 48 hours in advance of the relevant event.



It is understood that the speaker, the performer, the Athenaeum, and any other event sponsor, as appropriate, reserve all intellectual property rights for each Athenaeum event.



If you have any questions regarding this policy, please contact Bonnie Snortum at bsnortum@cmc.edu or at (909) 607-4180.