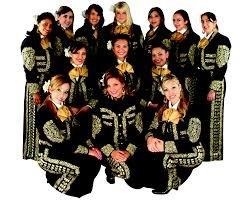 Mariachi Divas: A Musical Celebration in Honor of Cesar Chavez
CINDY SHEA, trumpet, founding director
BETO JIMENEZ, musical director
ROSALIE RODRIGUEZ, violin, vocals
CATHY BAEZA, violin
DANIELA GUITERREZ, guitarron
MELINDA FRANCES, congas, percussion
JILLIAN KARDELL, violin
JASMINE LOPEZ, violin, vocals
STEPHANIE MARTINEZ, violin, vocals
WENDY ALARCON, vihuela, vocals
ANIANA MEJIA, flute, vocals
SABRINA RODGERS, trumpet
ALISSA GONZALES, violin, vocals
KARINA ZURITA, guitar, vocals
THURSDAY, MARCH 27, 2014
The Mariachi Divas, an all-female, Grammy winning multi-cultural ensemble, will perform at the Athenaeum in celebration of Cesar Chavez's birthday.

Formed in 1999, the Mariachi Divas have performed at the Arrowhead Pond, Universal Amphitheatre, and the Staples Center, and have worked with Grammy-winning artists Joan Sebastian, Marco Antonio Solis, and Paulina Rubio. Although mariachi is the root of the group's music, the Divas' distinctive sound comes from its blending of traditional instrumentation the guitar, vihuela, guitarron, violins, and trumpets with timbales, congas, bongos, tambora, percussion, tres and flute.

The Mariachi Divas have recorded six CDs, the latest being Viva la Diva (2010) and 10 Aniversario (2009) in honor of their first ten years together. In 2009, they won a Grammy Award for Best Regional Mexican Album for their Canciones de Amor CD (2008). That was also the first time that an all-female mariachi troupe has ever been nominated for and won a Grammy Award.

The Divas first performed at the Athenaeum in honor of Cesar Chavez Day in 2004. To sample their music, check out the website: http://www.mariachidivas.com. You will not want to miss this Athenaeum tradition.