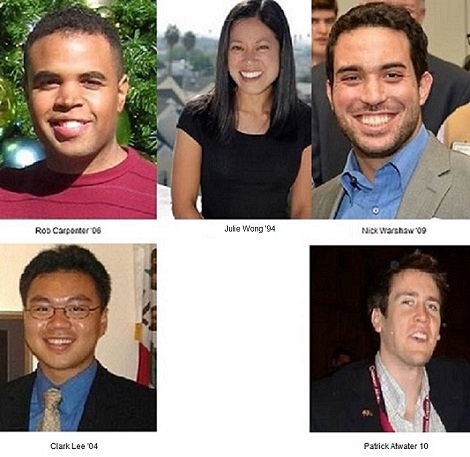 The Center for Civic Engagement Presents Young Alumni in Public Service
PATRICK ATWATER '10
ROB CARPENTER '06
CLARK LEE '04
NICK WARSHAW '09
JULIE WONG '94
MONDAY, MARCH 10, 2014
Patrick Atwater '10 is passionate about good government in California. He has served as an analyst for multi-billion dollar infrastructure projects, as an advocate for effective and honest government, and as a catalyst for using virtual tools to support teacher learning. In addition, he has researched and developed quantitative models for the $13 billion Bay Delta Conservation Plan, conveyance construction and environmental mitigation, and several multi-million dollar public-private partnerships. He serves on the Board of the Los Angeles Education Partnership, leading the conceptualization, design, and initial implementation of the LAEP viral project – an effort to creatively implement technology solutions to improve education in Los Angeles. He's also the author of numerous essays on how to bring California's famous pioneering spirit into the public sector, including his book A New California Dream which was published in 2011.

Rob Carpenter '06 is a serial 'hybrid entrepreneur': venture capitalist, professor, writer, public speaker and social activist. While at CMC, he worked in the White House Office of Political Affairs, for a former U.S. House Speaker, and wrote for multiple student publications. Post CMC, he has served as the Special Assistant to the CEO of Teach For America; was appointed as the youngest Commissioner of Transportation in the history of Los Angeles at 24 years old, where he saved over 100 ambulance worker jobs and exposed more than $217 million in fraudulent City funds, as reported by the Los Angeles Times; served as a leader in passing a $40 billion ballot measure to build Los Angeles's "Subway to the Sea"; and has served as professor of innovation at California State University, Los Angeles. He has founded numerous ventures, including a multi-million dollar startup named an "Emerging Technology Company of the Year" by Tech America, the Global Innovation Fellows, and more recently a venture capital firm that will be launching an asteroid-mining company. Rob holds a Master's Degree from Northwestern University and his writings and ventures have appeared in The New York Times, People Magazine, CNN, NBC, ABC, and Bloomberg BusinessWeek.

Clark Lee '04 is the Political Director of the Los Angeles County Democratic Party (LACDP), the largest local Democratic Party entity in the nation, representing more than 2.4 million Democrats. He oversees endorsement, campaign, and communications operations. An award-winning campaign professional, Lee specializes in targeted communications, field operations, voter education, and voter rights advocacy. He has worked with many nonprofit organizations, government agencies, and political campaigns at presidential, gubernatorial, statewide, Congressional, legislative, and local levels as a staff member, consultant, or advisor since 2001. Among other roles, he also serves as Chair of the California Democratic Party Asian Pacific Islander Caucus and was a Democratic National Convention delegate for President Barack Obama in 2012. He has been named a "Rising Star" by the Campaigns & Elections magazine.

In true CMC fashion, Nick Warshaw '09 is a committed "government jock." Currently a law student in UCLA Law's Public Policy and Law program, Nick has worked in politics since a young age. Most recently, Nick served as Communications Director at Rally.org, the online fundraising platform designed to empower users to fundraise and build social awareness on a large scale. Nick began working on campaigns in high school, beginning with Senator Boxer's 2004 reelection efforts. Through CMC's Washington DC program, he served in then House Speaker Nancy Pelosi's Office,. Nick was elected and served two terms as the President of the California College Democrats. In 2008, he coordinated earned media for President Obama's 2008 Campaign's communications operation in Missouri. Before joining Rally.org, Nick was the Government Relations Deputy for stem cell research at California's State Stem Cell Institute, the largest funder of stem cell research in the world. Nick is active in non-profits and political organizations throughout California. He serves as a partner for the Truman National Security Project and is a former fellow and board member of the New Leaders Council.

As Director of Corporate Citizenship for Walt Disney Parks and Resorts, Julie Wong '94 works with the company's theme parks, resorts, and other vacation businesses around the world to develop and implement strategies for philanthropic giving, environmental stewardship, issues management, and stakeholder engagement. Prior to joining Disney, Julie led communications efforts for a number of elected officials and political candidates, including U.S. Senator Barbara Boxer, Congresswoman Jane Harman, and L.A. City Councilmember Eric Garcetti. As Deputy Mayor for Communications to L.A. Mayor Jim Hahn, she helped craft communications strategies during critical junctures in the city, including the terrorist attacks of September 11 and the hiring of Police Chief Bill Bratton. Julie credits CMC's Washington Semester Program and Professor Jack Pitney's American politics classes for sparking her interest in pursuing a career in public service. She holds a bachelor of arts in government from Claremont McKenna College and a master's degree in Public Policy from Harvard University.