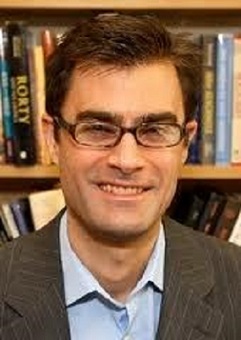 Is Islam a Religion? The Politics of American Religion
RICHARD AMESBURY
TUESDAY, March 11, 2014
Richard Amesbury is Professor of Theological Ethics and Director of the Institute for Social Ethics at the University of Zurich. His work focuses on ethical and political questions having to do with religion in the modern world. His current book project, Secular State and Religious Nation (under contract with Columbia University Press), examines political uses of the secular-religious distinction in contemporary American culture.

Prior to Secular State, Amesbury published two books: Morality and Social Criticism (Palgrave Macmillan, 2005) and Faith and Human Rights (Fortress, 2008). Professor Guy Stock writes of Morality and Social Criticism, "Richard Amesbury has produced an excellent book. . . . Amesbury's central project is to preserve –- as Rorty's pragmatism self-admittedly cannot –- the rationality of radical criticism within the spheres of moral, political and religious thought and action. In doing this he finds himself confronting issues that relate quite generally to the nature of rationality and these he takes to be linked inextricably to the philosophy of language and to be fundamentally logical."

Presently, Prof. Amesbury serves on the steering committees of both the American Academy of Religion's Religion and Politics Section and Law, Religion, and Culture Group and chairs the AAR's Awards for Excellence in the Study of Religion.