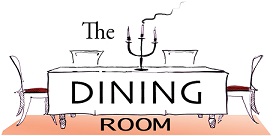 UNDER THE LIGHTS presents
Dinner Theater
The Dining Room by A.R. Gurney
MONDAY, MARCH 31-APRIL 2, 2014
DINNER 6:00 p.m.; PERFORMANCE 6:45 p.m.
CMC's theatre troupe, Under the Lights is proud to present The Dining Room (1982), a full-length play by A.R. Gurney.

The play takes place in a typical dining room of a well-to-do household, and explores the lives of the families that have inhabited it over the years. It consists of eighteen independent scenes: some funny, some rueful, and some poignant. Throughout, the actors take on a range of characters: from small children to stern grandfathers to teenagers drinking when their parents are away. The scenes coalesce to tell a story about upper class American life, rich with humor and humanity.

The play runs March 31 - April 2. We hope to see you in our audience!