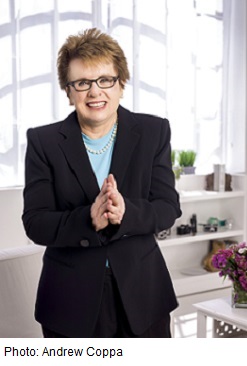 Pressure is a Privilege and Champions Adjust
BILLIE JEAN KING
MONDAY, APRIL 7, 2014
Billie Jean King is one of the greatest tennis players in history, and is a leading activist for social equality. As one of the most prominent LGBT figures in the sports world, King was appointed by President Obama to lead the U.S. Presidential Delegation to the Winter Olympics in Sochi, Russia.

King won her first of a record 20 Wimbledon titles in 1961 at the Ladies' Doubles Championship. She went on to win 39 Grand Slam singles, doubles, and mixed doubles titles during her career. On September 20, 1973, she defeated Bobby Riggs in the Battle of the Sexes—a match remembered for its effect on society and its contribution to the women's movement.

With her remarkable success, King has smashed traditional gender barriers in Athletics. She was the first ever woman commissioner of a professional sports league, she was the first woman to have a major sports venue named in her honor, she was the first female athlete to receive the Presidential Medal of Freedom, and in 1973 King successfully lobbied for equal prize money for male and female athletes at the US Open. In 1974, King founded the Women's Sports Foundation, and led the organization to award more than $50 million in educational and cash grants to advance participation, research, and leadership in sports and physical activity for girls and women.

In 2008 King released her book titled Pressure is a Privilege, which shares a collection of lessons she has used throughout her life and career. King serves as a board member on the Elton John AIDS Foundation and on the Andy Roddick Foundation. In 2010 King was appointed to the President's Council on Fitness, Sports, and Nutrition, and was named by Life Magazine as one of the 100 Most important Americans of the 20th Century.