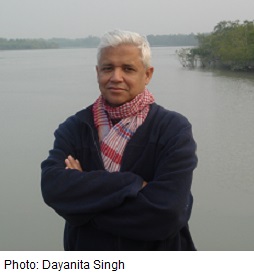 Genealogies of the Global: 19th Century Canton (Guangzhou) as seen by an Indian Merchant
AMITAV GHOSH
TUESDAY, APRIL 8, 2014
Amitav Ghosh is an acclaimed, prolific, and award winning Indian author who writes English fiction. As fellow author, Chandrahas Choudhury wrote for The New York Times, "No writer in modern India has held a novelistic lamp to the subcontinent's densely thicketed past as vividly and acutely as Amitav Ghosh."

Amitav Ghosh's major works include, The Circle of Reason (2005), The Shadow Lines: A Novel (2005), In An Antique Land: History in the Guise of a Traveler's Tale (1994), Dancing in Cambodia At Large in Burma (1998), The Calcutta Chromosome: A Novel of Fevers, Delirium and Discovery (2001), The Glass Palace: A Novel (2002, The Hungry Tide: A Novel (2006), and the first two volumes of The Ibis Trilogy; Sea of Poppies: A Novel (2009), and River of Smoke: A Novel (2012).

During his long career as a novelist, Ghosh has won numerous awards and has been translated into more than twenty languages. The Circle of Reason was awarded France's Prix Médicis in 1990, and The Shadow Lines won two prestigious Indian prizes the same year, the Sahitya Akademi Award and the Ananda Puraskar. The Calcutta Chromosome won the Arthur C. Clarke award for 1997 and The Glass Palace won the International e-Book Award at the Frankfurt book fair in 2001. In January 2005 The Hungry Tide was awarded the Crossword Book Prize, a major Indian award. His novel, Sea of Poppies (2008) was shortlisted for the Man Booker Prize, 2008 and was awarded the Crossword Book Prize and the India Plaza Golden Quill Award.