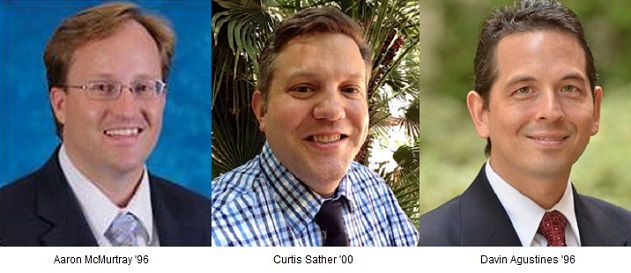 Medical Ethics: A Panel Discussion
DAVIN AGUSTINES '96
AARON MCMURTRAY '96
CURTIS SATHER '00
WEDNESDAY, APRIL 9, 2014
Three Alumni — one night…Please join us for a panel discussion on Medical Ethics featuring three CMC alumni who now work in the medical field.

Dr. Davin Agustines:
Assistant Professor of Psychiatry at the David Geffen School of Medicine at UCLA.

Following graduation from CMC, Dr. Agustines went to medical school at Western University of the Health Sciences where he earned his Doctor of Osteopathic Medicine degree. He then did residency training in psychiatry at Harbor-UCLA Medical Center, followed by advanced fellowship in Forensic Psychiatry at UCLA.

Dr. Agustines has worked with the criminally insane at state mental hospitals, and currently works at Olive View-UCLA Medical Center in Sylmar, teaching medical students and psychiatry residents the art and practice of psychiatry and psychotherapy. He was recently awarded UCLA medical student teacher of the year for 2013. The majority of his work today focuses on treatment of severely mentally ill patients, many of whom have significant medical, legal, and psychosocial stressors.


Dr. Aaron McMurtray:
Assistant Clinical Professor, David Geffen School of Medicine, UCLA
Director, Dementia Clinic, Neurology Department, Harbor-UCLA Medical Center
Investigator, Neurology Department, Los Angeles Biomedical Research Institute.

Dr McMurtray's primary focus is providing patient care to the underserved populations of south Los Angeles. He also trains physicians in Neurology residency and fellowship programs, and conducts clinical research, including clinical trials, on a variety of neurological diseases.


Dr. Curtis Sather:
Physician Director of Hospitalist Program, HealthCare Partners Medical Group, San Gabriel Valley

After graduating from CMC, Dr. Sather earned his MD degree from UC Davis, followed by postgraduate medical training at UCLA-Olive View and Cedars Sinai. He is board certified in Internal Medicine, Pulmonary Disease, and Critical Care Medicine.
Dr. Sather supervises the hospital care of about 200,000 patients of HealthCare Partners Medical Group in the San Gabriel Valley area. About 30% of his time is providing direct patient care in the hospital or outpatient pulmonary clinic. The rest is administrative - managing employed and contracted physicians and working on ways to improve quality and value of health care for patients. He serves on the Bioethics Committee of Methodist Hospital of Southern California.