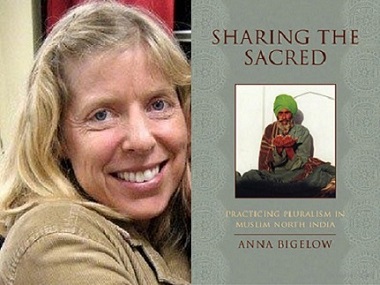 Matters of Devotion: The Spiritual Economies of South Asian Sufi Shrines
ANNA BIGELOW
THURSDAY, APRIL 10, 2014
Anna Bigelow is an Associate Professor of Islamic Studies in the Department of Philosophy and Religious Studies at North Carolina State University who speaks and writes on religious extremism, religion and conflict, and the role of Islam in the world today.

Bigelow received her M.A. from Columbia University and Ph.D. in Religious Studies from U.C. Santa Barbara with a focus on South Asian Islam. Bigelow's current research, funded by the Scholars Program of the Carnegie Corporation of New York, involves further study of contested and cooperatively patronized multi-religious sacred sites in South Asia and the Middle East, focusing on the inter-religious dynamics that complicate or ameliorate these relations in plural communities around the globe. As a professor at NC State University, in 2009, she won the Outstanding Junior Faculty Award from the College of Humanities and Social Sciences.

Her book, Sharing the Sacred: Practicing Pluralism in Muslim North India (Oxford University Press, 2010) is a study of a Muslim majority community in Indian Punjab and the shared sacred and civic spaces in that community. Writing for Contemporary Islam, Matthew A. Cook states, "Sharing the Sacred remains an important contribution to the study of South Asia. Its fine-grained focus on pluralism contrasts with other studies of the region by not focusing on devotional sites as locations for religious antagonism. This focus is a powerful corrective to view that Muslims are locked in a 'clash of civilizations' with other religions. In contrast to this view, Bigelow's book is a nuanced analysis that - through ethnography and history - shows how devotion, society and politics intersect in a Punjabi pilgrimage town."

Anna Bigelow's Athenaeum lecture is funded by a generous gift from CMC alumnus L. J. Kutten '74.