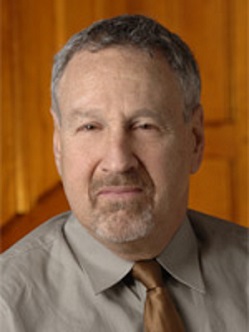 American Exceptionalism
PETER H.SCHUCK
THURSDAY, APRIL 24, 2014
LUNCHEON 11:30 a.m.; PROGRAM 12:00 p.m.
Peter H. Schuck is the Simeon E. Baldwin Professor of Law at Yale University in New Haven, Connecticut. He has held this chair since 1984, and also served as Deputy Dean of the Law School. His major fields of teaching and research are tort law; immigration, citizenship, and refugee law; groups, diversity, and law; and administrative law.

Schuck has written on a broad range of other public policy topics. His books include Meditations of a Militant Moderate: Cool Views on Hot Issues (2006); Immigration Stories (co-editor, 2005); and Foundations of Administrative Law (editor, 2d ed., 2004). In his most recent book published in March 2014, Why Government Fails so Often: And How it Can Do Better, Schuck provides insight on why so many domestic policies don't work, and how the federal government might "right the foundering ship of state."

Schuck is a member of the American Law Institute's advisory committee for the Restatement of Torts (Third), Basic Principles, is a contributing editor to The American Lawyer, has served as an arbitrator and as an expert witness in a variety of disputes, and has testified in dozens of congressional hearings. He was awarded a Harvard Graduate Prize Fellowship (1968-70), a Guggenheim Fellowship (1984-85), a residency at Rockefeller Foundation center in Bellagio (2001), and a Fulbright Senior Fellowship to lecture in India (2004).

Prior to joining the Yale faculty in 1979, Schuck was Principal Deputy Assistant Secretary for Planning and Evaluation in the U.S. Department of Health, Education, and Welfare (1977-79), Director of the Washington Office of Consumers Union (1972-77), and consultant to the Center for Study of Responsive Law (1971-72). He also practiced law in New York City (1965-68) and holds degrees from Cornell (B.A. 1962), Harvard Law School (J.D. 1965), N.Y.U. Law School (Ll.M. in International Law 1966), and Harvard University (M.A. in Government 1969).

This luncheon is sponsored by the President's Leaders Forum.