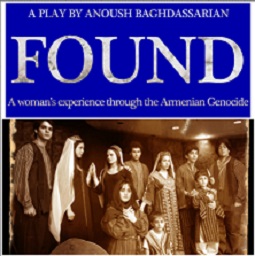 FOUND: A Woman's Experience through the Armenian Genocide
ANOUSH BAGHDASSARIAN '17
THURSDAY, APRIL 24, 2014
The Athenaeum is proud to present FOUND a play written by Anoush Baghdassarian '17 in commemoration and recognition of the 99th anniversary of the Armenian Genocide, which occurred in modern day Turkey and resulted in the deaths of over a million people.

FOUND is a play about a young girl named Lucine and her experience through the Armenian Genocide. Lucine's family gets killed while she is watching in a state of frozen panic from her bedroom door. Her younger brother Raffi runs out of the house and is chased by the Turkish soldiers. Although Lucine knows that her parents were killed, she still has hope that her brother is alive somewhere and she uses the next ten years of her life to search for him. She encounters many people (two of whom are Turkish) along her way who have been victims of the Genocide as well.

The stage is split in half and stage left is the 1915 Lucine and stage right is the 1925 Lucine. The play begins with the 1925 Lucine having nightmares about the night her parents were killed ten years earlier. She then goes to her desk to write about all the atrocities that ceaselessly run through her mind, hoping that they will not recur if she gets them down on paper. Everything she writes is then acted out on the portion of the stage beside her representing 1915.