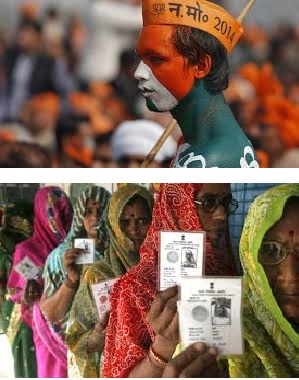 Roundtable Discussion: The Great Election Tamasha
Elections in the World's Largest Democracy: India
NITA KUMAR, history, CMC
ASEEMA SINHA, government, CMC
WEDNESDAY, APRIL 30, 2014
7:30 p.m. Freeberg Lounge
Participation of Students, Staff, and Colleagues is very Welcome!!
Snacks and Refreshments will be provided
Elections, underway in the world's largest democracy, are shaking the foundations of Indian politics and challenging the incumbent Congress party, which has ruled India since 2004 and for decades previously. This roundtable discussion will outline the major ISSUES, CANDIDATES, and TRENDS that dominate the election. Why is the Congress party expected to lose despite its many achievements? Will India be ruled by the BJP, a Hindu Nationalist party after May 2014? A new party, an "electoral insurgent," the Aam Admi party (the Common Man's party) is making a debut in Indian politics. What are the implications of these developments? The city of Banaras will host a historic battle between Narendra Modi (BJP leader) and Arvind Kejriwal, the leader of the Common man's party. Professor Nita Kumar has been a resident of Banaras and will reflect on the role of the city in this election. Professor Aseema Sinha has done research on Narendra Modi's work in Gujarat and will reflect on his rise as a leader of the BJP.
Hope to see ALL OF YOU on April 30th!!!