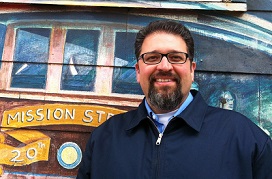 Latinos at the Golden Gate: Lessons for the Future
TOMAS SUMMERS SANDOVAL, JR. '94
WEDNESDAY, APRIL 16, 2014
LUNCHEON 11:30 a.m.; PROGRAM 12:00 p.m.
In the next few decades Latinos will become the majority population of California. How can the history of Latinos in San Francisco prepare us for this future? What can it teach us about the value of community history and its role in building a pluralistic democracy? In his new book, Latinos at the Golden Gate: Lessons for the Future (2013), Summers Sandoval details the rise of a diverse community of Latin American migrants in San Francisco, while focusing on the historical moments when a hybrid Latino identity was forged through struggle. He will share some of this story with an eye toward how it might help us better prepare for the challenges of a building a more inclusive future.

Tomás F. Summers Sandoval, Jr. ('94) is an associate professor at Pomona College, where he holds a joint appointment in the History Department and the Intercollegiate Department of Chicana/o~Latina/o Studies. A Native Californian, his work focuses on the historical experiences of Latin American migrants and their descendants in the United States.

Professor Sandoval graduated from CMC in 1994 with a double major in history and PPE. He then attended U.C. Berkeley, where he earned his M.A. and Ph.D. in history. Prior to returning to Claremont, Sandoval served as assistant professor of Chicana/o Studies at CSU Monterey Bay.