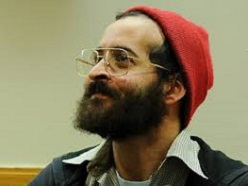 Slam Poetry!
ANIS MOJGANI
WEDNESDAY, SEPTEMBER 24, 2014
Anis Mojgani is likely the most well-known slam-poet of our generation. Two time champion of the National Individual Poetry Slam and champion of the International World Cup Poetry Slam, he is certainly the most accomplished.

Furthermore, "Anis Mojgani is one of the rare poets who is as accomplished on the page as he is on stage," says Greg Netzer, Executive Director of the Wordstock Festival. Mojgani has captivated audiences with powerful performances at literary festivals from Portland to Seoul or independent performances from Pomona College's Dom's Lounge to the General Assembly of the United Nations. He has published three acclaimed collections, Songs From Under The River, The Feather Room and Over the Anvil We Stretch (Write Bloody Publishing, 2013, 2011, and 2008 respectively).

Mojgani has taught at Dartmouth College as the Guest Writing Workshop Facilitator, and at the Workshop Badilisha Poetry X-Change, Cape Town, South Africa. His work is featured Learn Then Burn: Poems for the Classroom (Write Bloody Publishing, 2010) a modern poetry anthology for junior high and high school. Mojgani co-founded The Poetry Revival, a touring theater experience with fellow poets Derrick Brown and Buddy Wakefield. In 2013, Mojgani partnered with the depression awareness non-profit, TWLOHA, for his nationwide Heavy and Light tour dedicated to raising awareness for depression, suicide, self-harm and addiction.