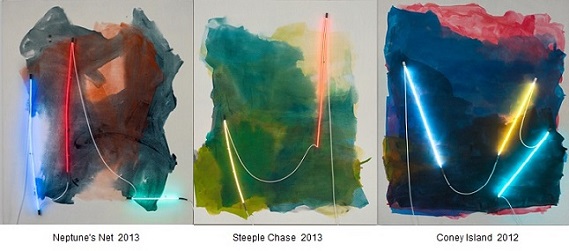 Celebration and Conversation with the Artist
MARY WEATHERFORD
ROBERT FAGGEN
TUESDAY, SEPTEMBER 16, 2014
Please join us as we welcome Mary Weatherford's resonant palette to a new home at Claremont McKenna College, with the installation of a Weatherford neon mural in the Marian Miner Cook Athenaeum. The mural measures 117" high x 234" wide, and has been painted specifically for the College. In celebration of the installation, there will be a conversation between Weatherford and Robert Faggen, the Barton Evans and H. Andrea Neves Professor of Literature at Claremont McKenna College and Director of the Gould Center for Humanistic Studies.

"Mary Weatherford's neon paintings follow a tradition of sublimity that can be found in Turner, and later in the saturnine Color Field paintings of Morris Louis," says Faggen. "Her transcendent work is, remarkably, deeply related to place. The college is honored to have such a stunning work installed in the cynosure of its campus."

Weatherford's installation will provide the campus community with a rare, thrilling opportunity to meet the artist during her residency; it is the culmination of her time at the college.

The Ojai-born artist has a studio in Los Angeles, which Claremont McKenna students toured last April during a five-part seminar on contemporary painting she taught at the College on behalf of the Gould Center for Humanistic Studies, as a Gould/Podlich Distinguished Fellow. In the same month she was back and forth to campus, Weatherford's exhibition Los Angele opened at David Kordansky Gallery, to high praise, especially from Los Angeles Times art critic Christopher Knight. The neon paintings were inspired by the places she's lived, charting the physical and metaphysical features of landscape. "Her work has been developing rapidly in the last several years, building complex momentum and self-assurance," Knight wrote in the Los Angeles Times on May 1, concluding, "These new paintings are the finest I've seen."

Calling her incorporation of neon light tubes "audacious," Knight was charmed by their effect: "None of Weatherford's linear glass tubes are straight; instead, their slight ripples, meanderings or irregular curves emphasize the light's tactile, handmade qualities," he said.

This fall the Gould Center for Humanistic Studies will publish the first major book on Weatherford's work, documenting her recent neon paintings and giving an overview of her 25-year career.

Mary Weatherford (b. 1963) has been the subject of solo exhibitions at LAXART, Los Angeles; Todd Madigan Gallery, California State University, Bakersfield, Calif.; Orange County Museum of Art, Newport Beach, Calif.; and P.S. 1 Institute of Contemporary Art, New York. Group exhibitions include The Forever Now: Contemporary Painting in an Atemporal World, Museum of Modern Art, New York (opening December 2014); Variations: Conversations in and around Abstract Painting, LACMA (opening August 2014); Landscape into Abstraction, Orange County Museum of Art, Newport Beach, Calif.; Sharing Sunsets, Museum of Contemporary Art, Tucson, Ariz.; Primarily Paint, Museum of Contemporary Art, San Diego; Cadavre Exquis, The Drawing Center, New York; Postcards from Alphaville: Jean Luc Godard in Contemporary Art, 1963 - 1992, P.S. 1 Institute of Contemporary Art, New York; Painting Culture, fiction/nonfiction, New York and Fine Arts Gallery, University of California at Irvine; and Plastic Fantastic Lover (object a), BlumHelman Warehouse, New York.

Weatherford is visiting CMC this semester as a Podlich Distinguished Fellow. The Podlich Distinguished Fellows Program was founded by Claremont McKenna College alumnus and trustee William F. Podlich in 1998 to enrich the College intellectually by bringing preeminent figures in scholarship, business, and public affairs to campus for extended visits.