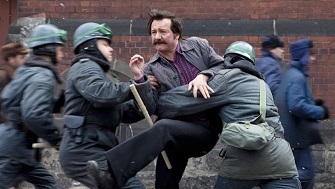 Film Screening; Walesa: A Man of Hope
MARIUSZ BRYMORA
WEDNESDAY, SEPTEMBER 17, 2014
Please join us as we celebrate the 25th anniversary of the democratic revolution in Poland with a screening of the 2013 biographical film, Walesa: Man of Hope, directed by Academy Award winner Andrjez Wajda.

Lech Walesa was an electrician at the Gdansk Shipyards in the 1970s (then the Lenin Shipyards) who transformed into a trade-union activist, which earned him persecution by the Communist authorities at the time, termination, and, eventually, the co-founding of the Solidarity trade-union movement. In 1983 he was awarded the Nobel Peace prize, but did not accept it upon fear he would not be allowed back into his country. After multiple arrests under Martial law in Poland — which included banning of the Solidarity movement — Walesa was instrumental to the creation of the 1989 Round Table Agreement leading to Parliamentary elections in June of that year. In 1990, under the slogan, "I don't want to, but I have no choice," Walesa became the first democratically elected president of Poland. As president he oversaw privatization, Poland's shift to a free market economy, and the removal of Soviet troops from Polish soil.

Walesa: Man of Hope chronicles the rise of a man whose leadership in the Polish democratic revolution sent ripples across the Iron Curtain, leading to the reunification of Germany and the dissolution of Yugoslavia. It follows a presidency marred by resentment of the privileges of Walesa's position and fear that an uneducated electrician was not dignified enough to lead a country. The Guardian cites the film's "terrific force and irresistible storytelling gusto," and The Birmingham Mail calls it "the kind of superior biopic which actually makes you feel like you are there."

The screening is sponsored by the Gould Center for Humanistic Studies and will be introduced by Mariusz Brymora, Consulate General of Poland.