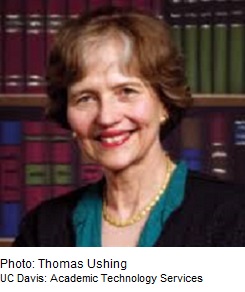 Dogs Speaking and Women Writing: A Muslim Queen on Islamic Law and Empowerment in 19th Century India
BARBARA METCALF
MONDAY, SEPTEMBER 22, 2014
Barbara Metcalf is a specialist in South Asian history and the history of Muslims in India and Pakistan. Her expertise has been called on by the Administrative Review Board for detainees at Guantanamo Bay and she has written numerous books on topics related to Islam and Indian history.

In addition to her books, Metcalf has authored scholarly articles on rape and Islam in India, reforms for Muslim women in India, and secularism and religion in Indian governance. Her work beginning with her Ph.D. dissertation has explored the dichotomy between colonial and traditional influences in India's culture, especially by closely examining texts by religious leaders that added depth to the existing understanding of Indian colonial history.

With her more recent research, Metcalf has positioned herself as a leading scholar of the Tablighi Jama'at, an Islamic religious movement with origins in India that is centered on transnational travel and religious recruiting to spread the faith. When she wrote to the Guantanamo Administrative Review Board, it was to explain how the benevolent nature of the Tablighis made them implausible suspects for terrorism.

Metcalf is a professor emerita of History at U.C. Davis and served as the 2010 President of the American Historical Association. She received her Ph.D. from U.C. Berkeley. Professor Metcalf is here thanks to CMC Professor Nita Kumar, herself a scholar of Indian history.
This lecture by Barbara Metcalf is made possible by the generosity of CMC alumus L.J. Kutten '74, and is part of the annual series of Kutten Lectures on Philosophy and Religion