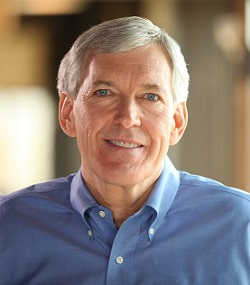 Contrasting Leadership in Public and Private Sectors
THOMAS LEPPERT '77
WEDNESDAY, SEPTEMBER 24, 2014
LUNCHEON 11:30 a.m.; PROGRAM 12:00 p.m.
Thomas C. Leppert is the Chief Executive Officer of Kaplan, Inc., the global educational services company and largest subsidiary of The Washington Post Company. Leppert has extensive leadership experience that includes high profile positions in both the private and public sector. His professional work has spanned managing companies in the role of CEO in a wide range of industries to leading a major U.S. city as the elected Mayor. He was the elected Mayor of Dallas, Texas from 2007 to 2011.

Leppert's public career followed 30 years of leading major national and international corporations in the areas of construction, financial services, homebuilding and real estate. He served as the Chairman and CEO of The Turner Corporation, the nation's largest general building company. In that role, from 1999 to 2006, he led the company into new markets, doubled its revenues, and initiated Turner University, an innovative internal, online training program for its 7,000 plus employees.

Prior to Turner, Leppert was Vice Chairman of Pacific Century Financial Corporation and its major subsidiary, the Bank of Hawaii; President and CEO of Castle & Cooke Properties, Inc.; and a National Partner at Trammell Crow Company. He began his career at McKinsey & Co. where he was elected a Principal of the firm.

Leppert served as a White House Fellow in 1984 under President Ronald Reagan and was appointed by President George W. Bush to the White House Fellows Commission.

Tom holds an MBA with Distinction from Harvard Business School and graduated cum laude from Claremont McKenna College in 1977.

Thomas Leppert's appearance at the Athenaeum is cosponsored by the Kravis Leadership Institute at Claremont McKenna College in conjunction with a class taught by Professor of Legal Studies and George R. Roberts Fellow, President Emerita Pamela Gann, the Robert Day School of Economics and Finance's Distinguished Speaker Series, and the Rose Institute of State and Local Government.