Planned Projects - Roberts Pavilion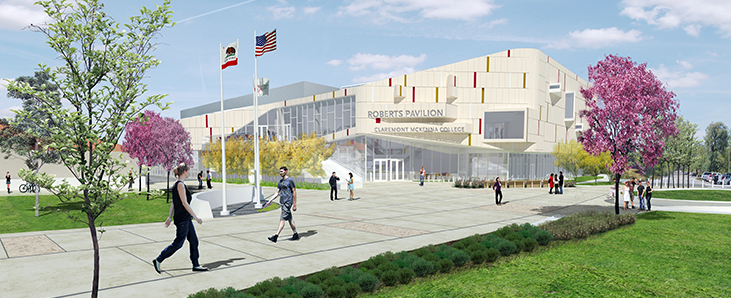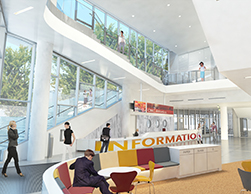 The Roberts Pavilion – "The Beating Heart of the Campus"
Named in honor of CMC trustee and alumnus George R. Roberts '66 P'93, the Roberts Pavilion will be the spectacular new fitness and events center for Claremont McKenna College and the athletic center for the Claremont-Mudd-Scripps intercollegiate, intramural, and physical education programs.
Designed by the award-winning creative team at John Friedman/Alice Kimm Architects, the Roberts Pavilion will be located at the northeast corner of 6th Street and Mills Avenue and will encompass over 120,000 square feet on three levels. It is scheduled to break ground in Spring 2014 and will take just over two years to construct.
The first floor of the Roberts Pavilion will be dedicated to CMC community fitness. After entering through a vaulted glass lobby with a social/study lounge and a reception desk with video announcement monitors, a myriad of recreational spaces will be accessible. To the north will be the two-story 10,000 square foot fitness studio with over 60 treadmills, cross trainers, exercise bikes, climbers, rowers, weight machines, and other cardio equipment oriented toward windows facing the San Gabriel Mountains and the renovated Axelrood Aquatic Center.
Located to the west side of the first floor will be two large exercise rooms for yoga, aerobics, spin, dance, and other group classes. Just south of these rooms, strength training will take place in the 4,500 square foot weight room. The south side of the Pavilion's first floor will be home to CMS Sports Medicine that will feature two hydrotherapy pools, 5 trainer tables, and numerous therapy stations all available to CMS athletes and CMC students.
Finally, this fitness floor will have secure day lockers and changing rooms for CMC students, faculty, staff, alumni, and guests.
Also accessed from the lobby, the three-story volume Arena will easily be the most impressive feature of the Roberts Pavilion. With game seating for 1850, the Arena will be the home of the CMS Athena women's volleyball and basketball teams and the Stag men's basketball team. State-of-the-art video technology has been integrated to optimize live streaming during events.
Team rooms with lockers, white boards, showers and bathrooms are located on the Arena level so that every varsity team can have an individual team room in season. Also provided are two visiting team locker rooms, and locker rooms for game officials, coaches, and physical education and athletic staff. In addition, the CMS equipment and laundry room will be on this level.
For events, the Arena will seat up to 2000, and will have retractable sound deadening banners that, when deployed, will make the space more acoustically appropriate for speeches and musical events. As an events center, the Arena will host popular Athenaeum speakers, student/parent first day orientation, convocation, and planned outdoor ceremonies moved indoors by weather. Theatrical lighting and sound systems will also help assure an appropriate environment for all these major events.
Located on the second floor of the Roberts Pavilion, the Recreational Gym will be reserved exclusively for CMS intramural and CMC recreational pick up games. This gym will feature skylights and large windows to the west and south and will have seating for up to 100 spectators, electronic scoreboards, and a generous stretching and warm up area. The south side of the Pavilion's second floor will be the home of the CMS Department of Physical Education and Athletics. With a reception lobby and conference room overlooking the Arena, additional space will be provided for department, student, and team meetings. Natural light will suffuse the interior via numerous solar tubes and a floor to ceiling picture window facing Zinda Field.
Ample public bathrooms will be provided on all three levels of the Roberts Pavilion and universal restrooms and changing facilities will also be available. Beverage vending machines, chilled filtered water hydration stations, and recycling receptacles will also be located throughout. The entire facility will enjoy Wi-Fi connectivity. Finally, the CMS Hall of Fame and team awards and trophies will be prominently displayed on the first and second floors.
The exterior visual impact of the Roberts Pavilion will be significant. A striking building form clad in alternating color terra cotta panels and glass, the Pavilion will create a signature presence visible from the Claremont McKenna campus common, Parents Field and the vehicular approach to CMC along 6th street. Water tolerant landscaping, numerous shaded seating areas and terraced patios, and large plazas and gardens surround the Pavilion and will provide ample space for outdoor events including concessions for Zinda Field athletics. The Class of 1952 flagpole will be prominently sited to the northwest of the Pavilion.
Sustainability is also a key feature of the Roberts Pavilion. In addition to incorporating numerous utility saving devices such as skylights, low flow water fixtures, and LED lighting, the Pavilion's HVAC system will be supplied by the newly constructed energy efficient South Campus Central Plant. Plentiful bike and skateboard racks will encourage the community to use ecologically friendly means of getting to and from the Pavilion. The College will be seeking a LEED Gold certification from the US Green Building Council for the Roberts Pavilion.
As an iconic building scrupulously planned, the Roberts Pavilion will truly be the beating fitness, athletic, and event heart of the Claremont McKenna campus.