Gould Center
The Gould Center for Humanistic Studies enhances CMC's mission to educate leading minds by providing opportunities for research, study, and experience in art, literature, history, philosophy and other fields as a means to understand and develop the power and use of the imagination.
---
Next at The Gould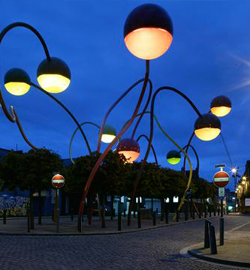 Art Panel II: Public Art - Public Domain
Philipp Kaiser and Robert Faggen, moderators
Wednesday, November 4, 2015 - 5:30pm
In this second of the two-part series sponsored by CMC's Gould Center for Humanistic Studies and the Public Art Committee, the panel will challenge the idea of the "public" in public art. It will examine the transformative and educational potential that lies in any encounter with art outside the white cube.
Internationally recognized artists, curators, and scholars will join curator Philipp Kaiser and Professor Robert Faggen to continue the conversation about Claremont McKenna's exciting public art initiative.
Panelists include Thomas Hirschhorn, Paris-based artist; Jeremy Strick, director of the Nasher Sculpture Center in Dallas; and Emi Fontana, Italian-born founder of West of Rome – Public Art, Los Angeles.
NOTE: This program will start at 5 pm with a reception. Dinner will be served at 5:30 pm. The formal program will begin at 6 pm.
The presentation by panelists will be followed by a moderated discussion and a Q & A..
*Please note: Talks are open to all, but preceding noon talks is a luncheon at 11:30 AM, while evening talks are preceded by a reception at 5:30 PM and dinner at 6:00 PM.
---
Milosz Institute Fellows
See more about The Milosz Institute