Visiting Fellows and Speakers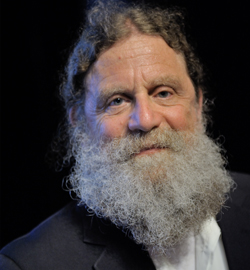 Robert Sapolsky
The Biology of Good and Evil
Wednesday, April 5, 5:30 PM
Marian Miner Cook Athenaeum
The uniqueness of Robert Sapolsky's perspective on the human condition comes from the ease with which he combines his insights from the field with his findings as a neuroscientist. For more than thirty years Sapolsky has divided his time between field work with baboons and highly technical neurological research in the laboratory. As a result, he can effortlessly move from a discussion of pecking orders in primate societies (human and baboon) to an explanation of how neurotransmitters work during stress—and get laughs doing it.
The problem for people, as Dr. Sapolsky explains in his book Why Zebras Don't Get Ulcers, is that our bodies' stress response evolved to help us get out of short-term physical emergencies—if a lion is chasing you, you run. But such reactions, he points out, compromise long-term physical health in favor of immediate self-preservation. Unfortunately, when confronted with purely psychological stressors, such as troubleshooting the fax machine, modern humans turn on the same stress response. "If you turn it on for too long," notes Sapolsky, "you get sick." Sapolsky regards this sobering news with characteristic good humor, finding hope in "our own capacity to prevent some of these problems…in the small steps with which we live our everyday lives."
The humor and humanity he brings to sometimes-sobering subject matter make Dr. Sapolsky a fascinating speaker. He lectures widely on topics as diverse as stress and stress-related diseases, baboons, the biology of our individuality, the biology of religious belief, the biology of memory, schizophrenia, depression, aggression, and Alzheimer's disease.
Dr. Sapolsky is a MacArthur "Genius" Fellow, a professor of biology and neurology at Stanford University, and a research associate with the Institute of Primate Research at the National Museum of Kenya. In 2008, National Geographic & PBS aired an hour-long special on stress featuring Dr. Sapolsky and his research on the subject. In addition to A Primate's Memoir, which won the 2001 Bay Area Book Reviewers Award in nonfiction, Robert Sapolsky has written three other books, including The Trouble with Testosterone, Why Zebras Don't Get Ulcers, and Monkeyluv and Other Essays on our Lives as Animals. Dr. Sapolsky was awarded Rockefeller University's Lewis Thomas Prize for Writing about Science for 2008. His articles have appeared in publications such as Discover and The New Yorker, and he writes a biweekly column for the Wall Street Journal entitled "Mind & Matter." He is currently working on a book to be titled: Behave: The Biology of Humans at Our Best and Worst (Penguin Press May 2017).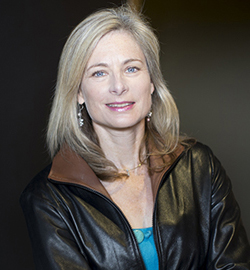 Dr. Lisa Randall
How Do We Know There Are Extra Dimensions?
Tuesday, February 28, 5:30 PM
Marian Miner Cook Athenaeum
Professor Lisa Randall studies theoretical particle physics and cosmology at Harvard University. Her research connects theoretical insights to puzzles in our current understanding of the properties and interactions of matter. She has developed and studied a wide variety of models to address these questions, including extra dimensions of space and novel theories of dark matter. Randall has also had a public presence through her writing, lectures, and radio and TV appearances. Randall's books, Warped Passages: Unraveling the Mysteries of the Universe's Hidden Dimensions and Knocking on Heaven's Door: How Physics and Scientific Thinking Illuminate the Universe and the Modern World were both on the New York Times' list of 100 Notable Books of the Year. Randall has also pursued art-science connections, writing a libretto for Hypermusic: A Projective Opera in Seven Planes that premiered in the Pompidou Center in Paris and co-curating an art exhibit for the Los Angeles Arts Association. Much of her current research is focused on the Large Hadron Collider and dark matter searches and models. Professor Randall's most recent book is titled Dark Matter and the Dinosaurs, about connected science in the universe.
Randall's studies have made her among the most cited and influential theoretical physicists and she has received numerous awards and honors for her endeavors. She is a member of the National Academy of Sciences, the American Philosophical Society, the American Academy of Arts and Sciences, was a fellow of the American Physical Society, and is a past winner of an Alfred P. Sloan Foundation Research Fellowship, a National Science Foundation Young Investigator Award, a DOE Outstanding Junior Investigator Award, and the Westinghouse Science Talent Search. Randall is an Honorary Member of the Royal Irish Academy and an Honorary Fellow of the British Institute of Physics. In 2003, she received the Premio Caterina Tomassoni e Felice Pietro Chisesi Award, from the University of Rome, La Sapienza. In 2006, she received the Klopsteg Award from the American Society of Physics Teachers (AAPT) for her lectures and in 2007 she received the Julius Lilienfeld Prize from the American Physical Society for her work on elementary particle physics and cosmology and for communicating this work to the public. In 2012, she was the recipient of the Andrew Gemant Award from the American Institute of Physics, which is given annually for significant contributions to the cultural, artistic or humanistic dimension of physics.
Professor Randall was on the list of Time Magazine's "100 Most Influential People" of 2007 and was one of 40 people featured in The Rolling Stone 40th Anniversary issue that year. Prof. Randall was featured in Newsweek's "Who's Next in 2006" as "one of the most promising theoretical physicists of her generation" and in Seed Magazine's "2005 Year in Science Icons". In 2008, Prof. Randall was among Esquire Magazine's "75 Most Influential People."
Professor Randall earned her PhD from Harvard University and held professorships at MIT and Princeton University before returning to Harvard in 2001. She is also the recipient of honorary degrees from Brown University, Duke University, Bard College, and the University of Antwerp.
---