Gould Center for Humanistic Studies
The Gould Center for Humanistic Studies enhances CMC's mission to educate leading minds by providing opportunities for research, study, and experience in art, literature, history, philosophy and other fields as a means to understand and develop the power and use of the imagination.
---
News
Gould Distinguished Visiting Fellow Philipp Kaiser has curated the inaugural exhibition at The Marciano Art Foundation, the new contemporary art space in a former Scottish Rite Masonic Temple in downtown Los Angeles. The exhibition, titled "Unpacking: The Marciano Collection," opens May 25 and draws from the Foundation's collection of over 1,500 artworks, bringing together an international, multigenerational roster of artists who are among contemporary art's leading creative and critical voices. The busy Kaiser has also served as senior curator at the Museum of Contemporary Art L.A. and curator of the 2017 Swiss Pavilion at the Venice Biennale. More information and tickets to "Unpacking" are available here.
Two recent items explore the legacy of Czeslaw Milosz. Read Andrzej Franaszek's "Why Czeslaw Milosz Still Matters," from the May 15 edition of The New York Times. Franaszek also wrote Milosz: A Biography, an English translation of which has just been published by Harvard University Press. Adam Kirsch reviews the biography in the May 29 issue of The New Yorker, and you can read it here.
Next at Gould
---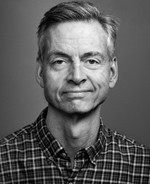 Robert Wright
Why Buddhism is True.
Tuesday, September 19