2017 - 2018 Academic Year
Thursday, November 9, 4-5 p.m. at the HUB Patio: Meet Your History Professors Pre-Registration Social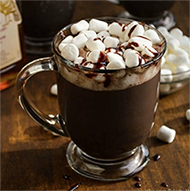 Not sure about what to take next semester? Cold weather got you down? Swing by the Department's pre-registration social and warm up with some hot chocolate, biscotti, and lively discussions of history. Ask faculty about their courses next semester or simply catch up with your favorite history professors!
Contact Professor Diana Selig for any inquiries.

Monday, October 30, 7 p.m.: HALLOWEEN MOVIE SCREENING: "The Witch"
Pickford Auditorium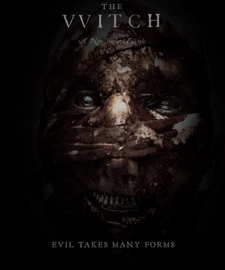 The movie depicts a Puritan family cast out of their New England town for being too religiously radical. When they move to a new location, they become haunted by a witch. Professor Daniel Livesay will provide a short introduction beforehand and there will be a discussion after the movie. Snacks will be provided!
Thursday October 26, 6pm:
C.A.R.E. Center (2nd floor of Heggblade)
CMC's C.A.R.E. Center and the history department will host a screening of the documentary, They Call Us Monsters, Thursday, October 26 at 6PM in the C.A.R.E. Center (2nd fl of Heggblade). They Call Us Monsters profiles the incarcerated youth at a high-security compound within the Sylmar Detention Center. They are Los Angeles county's high-risk juvenile offenders, tried as adults for violent crimes and facing decades, if not hundreds of years in adult prison.
Join us and learn about opportunities to get involved supporting this community of young people! Pizza and drinks provided.
Monday October 23, 4 p.m.: Kravis 161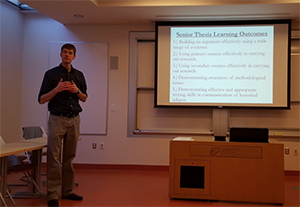 Senior Thesis Advising session with Professors Cody, Petropoulous and Livesay Faculty will provide handouts and suggestions at the meeting on how to embark on a senior thesis in history.
Early December (Date TBA): Senior Thesis Presentations
More details to come
2016 - 2017 Academic Year
January 25 – History Department Pizza Party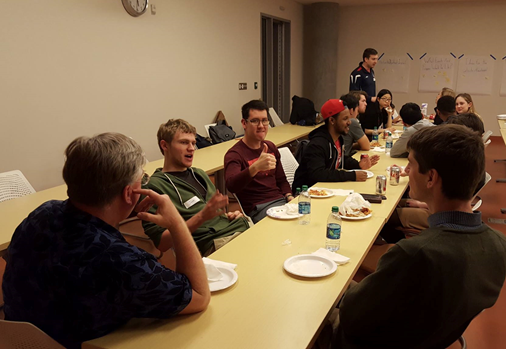 To kick off the Spring semester, the Department held its Welcome Back Pizza Party! History students and faculty had the chance to enjoy good food and great company. Students and faculty also brainstormed together to generate ideas for programs and events to help the History Department grow.
February 18 – BATTLESHIP USS IOWA Museum visit.
With the support of CMC History Department and the CMC Crown Fund, the History Stewards and Professor Ian Hopper are excited to help bring history to life through this visit to a US Navy battleship which saw action in World War II, the Korean War, and the Cold War. History majors and non-majors are welcome to join this trip! Contact Johann
More information on the museum can be found on this website.
We will depart for the museum at 11am on Saturday morning before returning to CMC's campus at about 4pm on the same day.
March 3: 10:45am-1pm – Careers in History & Literature Event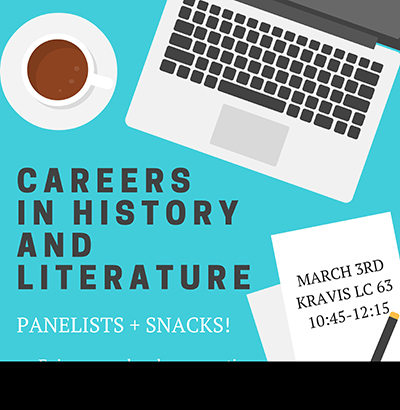 Enjoy a panel and informal conversation with recent CMC alumni who majored in History and Literature. The panelists, now working in a variety of private and public sector fields, will discuss how they have used their history or literature majors on the job market.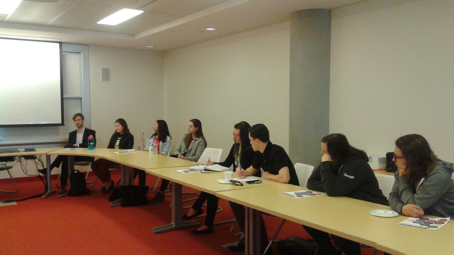 On March 3rd, CMC Alumni shared their experiences on how they have used their history & literature degrees in their professional lives, as well as talk about the advantages that the study of History and Literature bring to their work.
March 24 - Autry Museum Visit


The CMC History Department will be organizing a museum visit to the California Continued exhibit at the Autry Museum of the American West on MARCH 24 (Friday). We will depart from 8th and Columbia at 10AM and return no later than 3PM.
Admission, lunch and transportation will be sponsored by CMC.
The California Continued exhibit explores California's contemporary environmental crises and the role that traditional ecological knowledge might play.
Limited spots available so RSVP to Professor Tamara Venit-Shelton at TVenit@cmc.edu by MARCH 20 (the Monday when classes resume)
April 13 – Pre-Registration Ice Cream Social.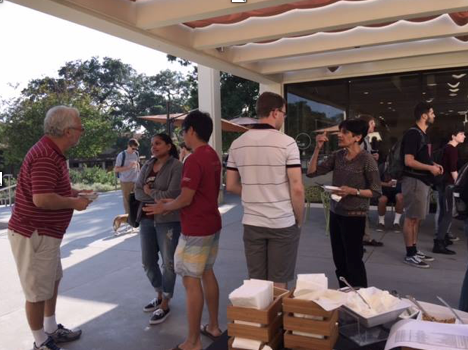 Unsure about what courses you want to take next semester? Interested in a history class? Miss interacting with your favorite history professors?
If so, come to the Department's Ice Cream Social held in the week before pre-registration for the Fall semester. Professors will be on hand to answer students' questions about the courses on offer and history in general. Students will have the chance to meet others who share a passion in history as well as grab some ice cream in the sweltering Spring heat.
April 28 – Thesis Presentation Day and Dinner.
As part of our yearly tradition, the Department will be holding a farewell dinner for the Seniors on the day of their thesis presentations (for full-year and Spring semester theses only). The CMC History community will gather to watch seniors present on their capstone of their education at CMC before partaking in food, farewell speeches and general merriment.
Fall 2016
September 29 – Book Talk: Russia's Path toward Enlightenment with Author Professor Gary Hamburg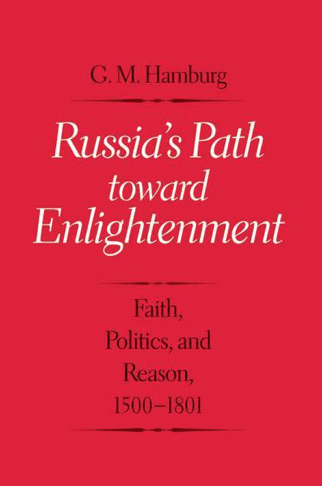 Interested in history? Fascinated by Russia? Fan of free food and interesting conversation? Come join us for an informal discussion of a chapter from Professor Hamburg's new book: Russia's Path toward Enlightenment.
The chapter in question (#15 Radishchev and the 'Radical' Enlightenment) can be found online through the Claremont Colleges' library
October 6 – Film Screening: "The Birth of a Nation" by The History Department & the C.A.R.E. Center
The film, a Sundance Film Festival winner, depicts the events of Nat Turner's enslaved rebellion in antebellum Virginia. There was a short presentation and discussion on the history of the Rebellion, as well as some of the recent controversies surrounding the film and its director at the C.A.R.E. Center.
November 14 – Meet Your History Professors: Cookies and Courses.
The Department held a Meet Your History Professors event outside The Hub. It was a great opportunity for students to eat cookies and chat with professors about their courses on offer for the Spring semester!
Academic Year 2015 - 2016
September 22 – 'Internationalism' Performed: 6 week theater workshop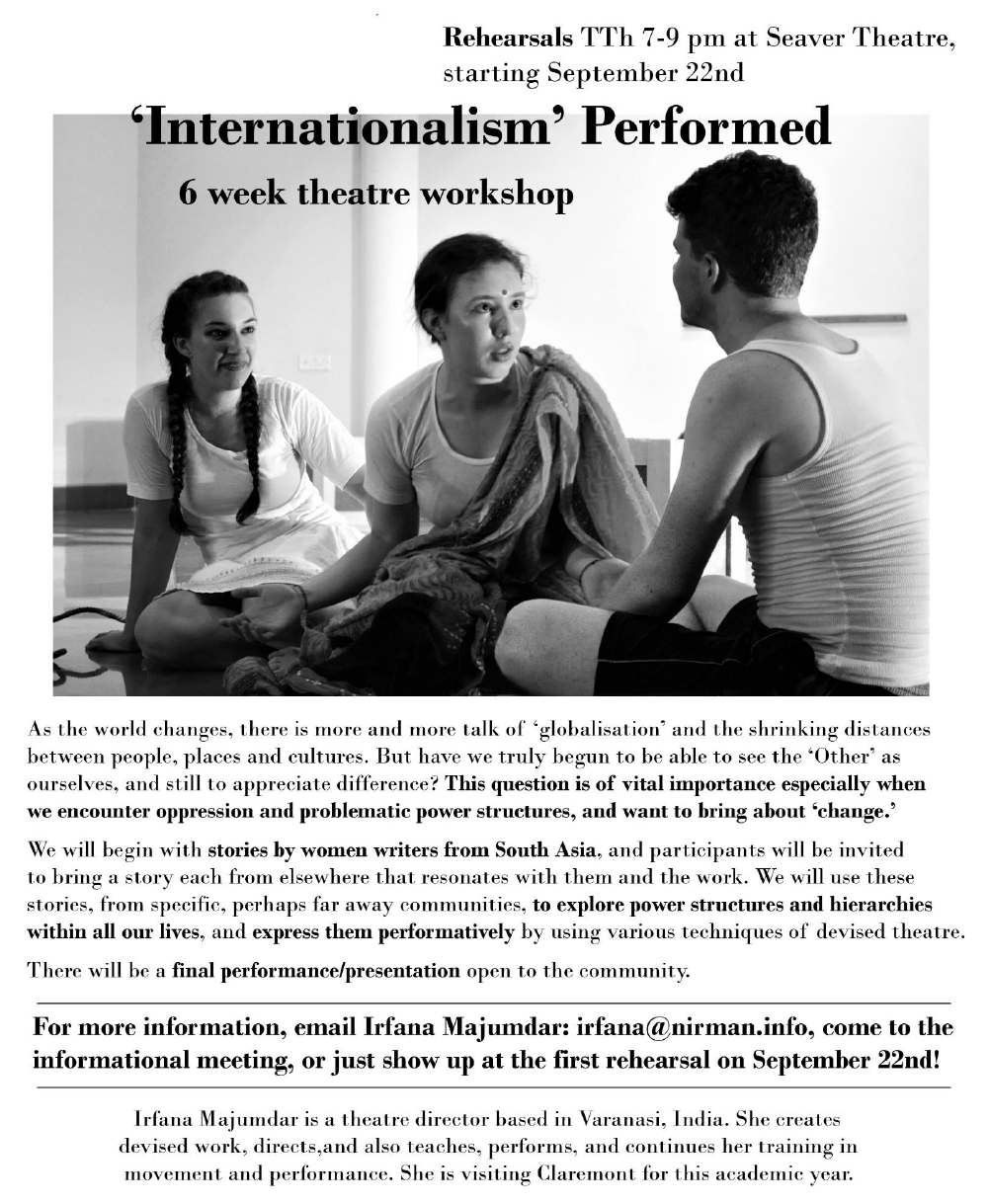 September 23 - December 9 – A Semester of Bollywood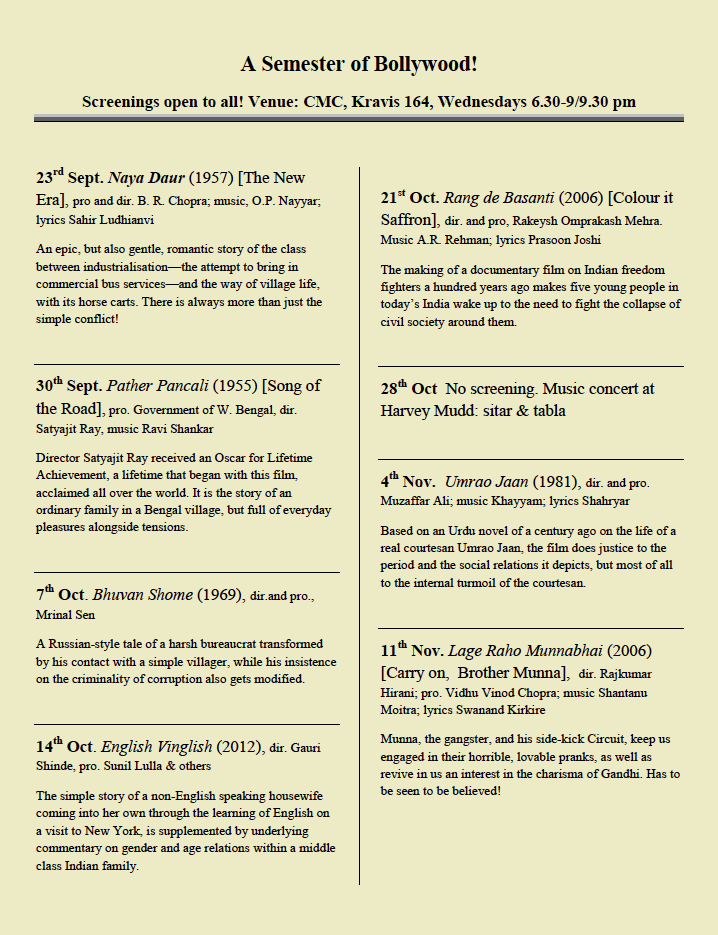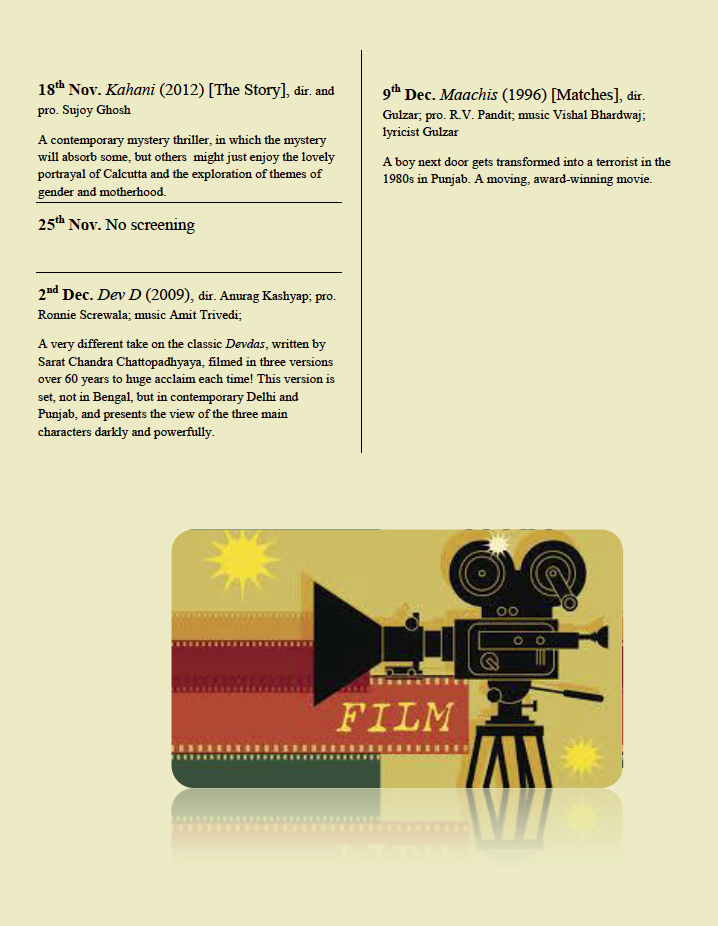 Academic Year 2014 - 2015
September 10, 4:00 pm – Exhibit Opening and Reception, "Over There, Over Here: A Glimpse of the Great War Through the Collections of the Claremont Colleges," Honnold Mudd Library
Keynote Lecture, Professor Roger Chickering, Georgetown University, "Imperial Germany's Peculiar War, 1914-1918" Founder's Room, Honnold Mudd Library
September 22 – Athenaeum dinner & lecture, Professor Barbara Metcalf, Prof. Emerita University of California Davis, ex-President AHA, on "Dogs Speaking and Women Writing" A Muslim Queen on Islamic Law and Empowerment in 19th C. India."
September 25 – Athenaeum lunch & lecture, Manisha Priyam, Fellow, Nehru Memorial Museum and Library, Delhi; author, forthcoming The Contested Politics of Education Reforms in India: Aligning Opportunities with Interests (2014) and co-author, Human Rights, Gender and the Environment (2009); "Analyzing the Election in India" (12:00 p.m.)
October 2, 4:00 pm – Faculty (Professors Evan Wollen and Wendy Lower) and Student Panel (The Great War, Hist 136)
"The Making of an Exhibit on the Great War"
October 10, 9:30-2:30 pm – Trip to the Huntington Library and "behind-the-scenes" tour of the archives with institutional archivist, Jennii Goldman, '03.
October 29 – Andrew Feldherr (Professor of Classics at Princeton University) speaking at the Athenaeum ("History in the Mist: Reviewing Visual Representation in Ancient Historiography")
October 30 – Andrew Feldherr (Professor of Classics at Princeton University) giving the semi-annual Harry Carroll Lecture in Classics at Pomona College ("Numidians, New Media, New Medeas: Tragedy and Transformation in Sallust's Jugurtha")
November 3 – Athenaeum dinner & lecture, Ann Gold, Thomas J. Watson Professor of Religion and professor of anthropology, Syracuse University; co-author, In the Time of Trees and Sorrows: Nature, Power, and Memory in Rajasthan (2002) and Listen to Heron's Words; Reimagining Gender and Kinship in North India (1994)
November 12, noon, – RDS, Brown Bag, "The Business of Genocide" Peter Hayes, Northwestern University
November 12, 2:45-4:00 pm, – Nazi Persecution of Homosexuals, Peter Hayes, Hist 137, Kravis LC 61
November 12, 6:45, – Athenaeum, Peter Hayes, Northwestern University, "From Aryanization to Auschwitz: German Corporations and the Holocaust"
November 13, – Edward Watts (Professor of History and Classics at UC San Diego) speaking at the Athenaeum ("A Job-friendly Education in the Humanities: The Late-Antique Side of the Story")
November 19, – Athenaeum, noon, Dr. Geoff Megargee, Historian, US Holocaust Memorial Museum, "New Research on WWII era Concentration Camps in Europe"
November 23 – Getty Villa Excursion, led by Professor Shane Bjornlie, contact him to sign up for trip.
November 24 - Film screening "JSA: Joint Security Area" (director: Park Chan-wook, 2000), 7-9pm at Kravis 102, the screening is open to public but the seats are limited. Contact Sinwoo Lee to sign up for the entry.
March 9, Ath, 6:45 pm – Marci Shore, Yale University, "The Taste of Ashes: Post-Totalitarian Eastern Europe"
March 10, Ath, noon – Timothy Snyder, Yale University, "Bloodlands" Europe Between Nazism and Stalinism
March 11 – Clifford Ando (Professor of Classics at the University of Chicago) speaking at the Athenaeum (title of lecture to be announced)
March 12 – Clifford Ando (Professor of Classics at the University of Chicago) giving the semi-annual Harry Carroll Lecture in Classics at Pomona College (title of lecture to be announced)
April 16 or 23 – (to be announced) - Cam Grey (Professor of History and Classics at the University of Pennsylvania) speaking at the Athenaeum on environmental explanations for the "decline and fall" of the Roman Empire (title of the lecture to be announced)
---
Academic Year 2013-2014
May 4 - Jonathan Petropoulos, John V. Croul Professor of European History, was on CBS Sunday Morning. View Degenerate Art: How the Nazis attacked modernism.
---
2013
April 30 - The CMC History Department's End-of-Year Party!
Please join your history professors and fellow majors for a dinner celebrating the end of the academic year and our graduating seniors. For more information, please contact the History department.
February 22 and 23 - Life and Legacy of Constantine (Smith Campus Center 201, Pomona College)
(click here for details)