Mgrublian Center for Human Rights
CMC's Center for Human Rights has been renamed The Mgrublian Center for Human Rights in honor of Margaret Mgrublian P'11 and David Mgrublian '82, P'11, generous donors to the Center. Mr. Mgrublian currently serves as chair of CMC's Board of Trustees.
At a dinner at the Athenaeum, Professor Emeritus John Roth and David Mgrublian spoke about the importance of the Center's work in fighting injustices and atrocities around the globe.
The Center, which grew out of the teachings of Professor Roth on the Holocaust in the early 1970s, has had a couple of name changes since it was launched in 2003 as The Center for the Study of the Holocaust, Genocide and Human Rights. In 2009, the Center's name was changed to The Center for Human Rights Leadership, and in 2014, it became The Center for Human Rights.
Professor Wendy Lower currently directs the Center's educational efforts, including student advocacy programs to combat genocide and provide relief to those afflicted by it.
2015 Summer Interns
The Mgrublian Center for Human Rights is proud to be sponsoring 14 students through our 2015 Summer Internship Program! The Human Rights Internship Program provides student grants of up to approximately $5,000 to support projects that engage undergraduates in the field of human rights. The internships cover a wide range of activities, including: working for organizations that promote human rights or raise awareness about related issues; undertaking research for a scholarly project (including senior theses); and developing an independent program in a field related to human rights studies. This summer our students are working in eight international locations in addition to a variety of domestic organizations.
Follow our interns through their blogs and learn more about each of their experiences this summer!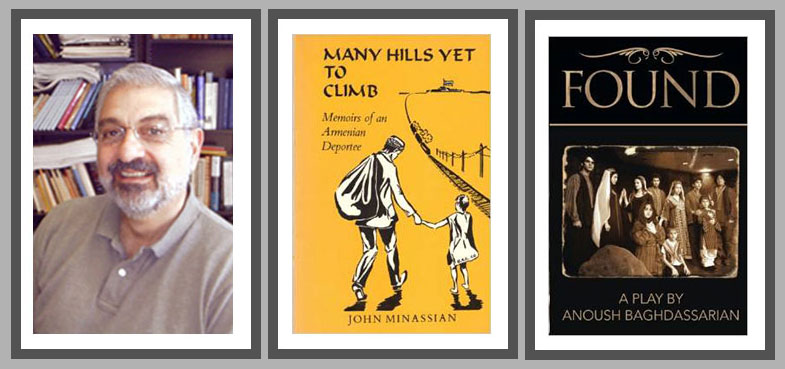 Commemorating the Centennial of the Armenian Genocide
April 8, 6:45pm: Ronald Grigor Suny – CMC Athenaeum
Charles Tilly Collegiate Professor of History at the University of Michigan, "They Can Live in the Desert But Nowhere Else: Explaining the Armenian Genocide One Hundred Years Later".
April 10, 2-4:00pm: Narratives of the Armenian Genocide – Roberts North 15
Many Hills Yet to Climb, Memoirs of an Armenian Deportee, by John Minassian. Presentation of the memoir and panel discussion including Wendy Lower (John K. Roth Professor of History and George R. Roberts Fellow), Carina Karapetian Giorgi (Visiting Assistant Professor of Sociology, Pomona College), Anoush Baghdassarian (CMC '17), and Helen Seligman (CMC '17).
FOUND, a play by Anoush Baghdassarian. Anoush will discuss her recently published, one-act play about the Armenian Genocide.
Book signing and refreshments to follow.
---
2014 - 2015 Programming
October 2nd, 4:15 p.m.: Student Panel (Hist 136), "The Making of an Exhibit on the Great War," Founders Room, Honnold/Mudd Library.
November 12: Professor Peter Hayes, Northwestern University:
12 p.m.: "The Business of Genocide", Brown Bag Lunch with RDS
2:45 p.m.: LC61, Seminar, "Anti-Semitism and Homophobia in Nazi Germany: Commonalities and Differences"
6:45 p.m.: "From Aryanization to Auschwitz: German Corporations and the Holocaust," CMC Athenaeum
November 19, 12 p.m.: Geoff Megargee, U.S. Holocaust Memorial Museum, "New Research on WWII-Era Concentration Camps in Europe," Athenaeum.
February 10, 12 p.m.: Professor Avraham (Alan) Rosen, Holocaust scholar, "Tracking Jewish Time in Auschwitz," . Co-sponsored with Hillel at the Claremont Colleges. Parents Dining Room, Athenaeum.
February 11, 12 p.m.: Professor A. Dirk Moses, European University Institute, "The Diplomacy of Genocide: Humanitarian Intervention in the Age of Decolonization," Athenaeum.
March 3, 7 p.m.: A special sneak preview of The Hunting Ground, a film exploring sexual crime on college campuses and institutional cover-ups. The film will be followed by a Q&A session with the Director, Kirby Dick. Sponsored by the Mgrublian Center for Human Rights, the Robert Day School of Economics and Finance at CMC, the Alexa Fullerton Hampton Fund of Scripps College, and Pomona College. The screening will be held at Garrison Theater, Scripps College campus.
March 5, 4:00 - 5:15 p.m.: Second Annual Careers in Human Rights Panel & Discussion, Freeberg Forum. Panelists include D'Artagnan Scorza, Ph.D (Executive Director of Social Justice Learning Institute), Cameron Munter (Former U.S. Ambassador to Pakistan and Serbia), and Bonnie Abaunza (contract consultant for the UN and Amnesty International's Top Person in the Arts). The panel will be followed by dinner in Parents Dining Room (CMC Athenaeum) from 5:30-7:30pm. RSVP via Claremont Connect to reserve your place!
March 9, 6:45 p.m.: Professor Timothy Snyder, Yale University, "Russia and Ukraine, War and History," Athenaeum.
March 10, 12 p.m.: Professor Marci Shore, Yale University, "A Civilization That Needs Metaphysics': Existentialism and Dissent in Eastern Europe", Athenaeum.
April 30/May 1: Human Rights Film Festival. Films TBA.
April 8, 6:45 p.m.: Professor Ronald Suny, University of Michigan/Ann Arbor, "'They Can Live in the Desert But Nowhere Else': Explaining the Armenian Genocide One Hundred Years Later," Athenaeum. Additional programming related to the centennial of the genocide being developed, including a teach-in on Syria, Northern Iraq, Turkey and ISIL/ISIS; a book launch; and a memorial ceremony.
April 15, 6:45 p.m.: Arn Chorn Pond, "Child of War, Man of Peace". Cambodian Genocide survivor, author of Never Fall Down, and founder of Cambodian Living Arts, CMC Athenaeum. Co-sponsored with members of the Women and Leadership Alliance (WLA), including the Berger Institute for Work, Family & Children, the Mgrublian Center for Human Rights, the Center for Writing and Public Discourse, the Kravis Leadership Institute, and the Marian Miner Cook Athenaeum.
May 6-7: Student Authors Meet Critics, "The Defense." Center fellows, and students with honors theses in human rights, genocide and Holocaust history, will publicly defend their research.
Introducing the 2014-15 Human Rights Research Fellows!
The Mgrublian Center for Human Rights is proud to announce our new student research fellowship program for AY 2014-15. Students will work closely with the Center's Faculty and Staff on a human rights research project.
Meet the 2014-15 Human Rights Fellows.
---
---
Follow The Mgrublian Center for Human Rights