Mgrublian Center for Human Rights
Past Events
2014 - 2015 Programming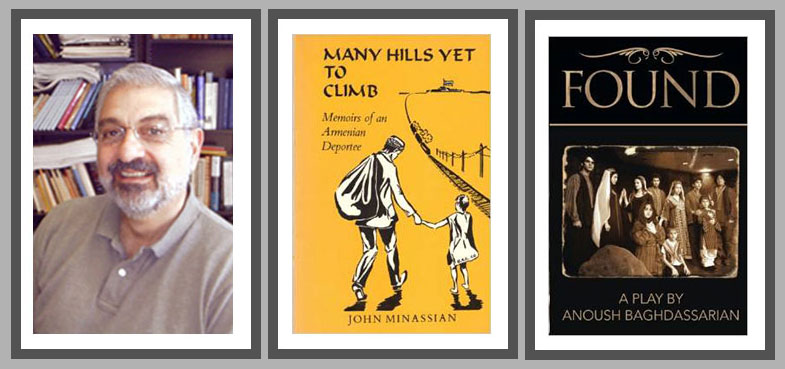 Commemorating the Centennial of the Armenian Genocide
April 8, 6:45pm: Ronald Grigor Suny – CMC Athenaeum
Charles Tilly Collegiate Professor of History at the University of Michigan, "They Can Live in the Desert But Nowhere Else: Explaining the Armenian Genocide One Hundred Years Later".
April 10, 2-4:00pm: Narratives of the Armenian Genocide – Roberts North 15
Many Hills Yet to Climb, Memoirs of an Armenian Deportee, by John Minassian. Presentation of the memoir and panel discussion including Wendy Lower (John K. Roth Professor of History and George R. Roberts Fellow), Carina Karapetian Giorgi (Visiting Assistant Professor of Sociology, Pomona College), Anoush Baghdassarian (CMC '17), and Helen Seligman (CMC '17).
FOUND, a play by Anoush Baghdassarian. Anoush will discuss her recently published, one-act play about the Armenian Genocide.
---
October 2nd, 4:15 p.m.: Student Panel (Hist 136), "The Making of an Exhibit on the Great War," Founders Room, Honnold/Mudd Library.
November 12: Professor Peter Hayes, Northwestern University:
12 p.m.: "The Business of Genocide", Brown Bag Lunch with RDS
2:45 p.m.: LC61, Seminar, "Anti-Semitism and Homophobia in Nazi Germany: Commonalities and Differences"
6:45 p.m.: "From Aryanization to Auschwitz: German Corporations and the Holocaust," CMC Athenaeum
November 19, 12 p.m.: Geoff Megargee, U.S. Holocaust Memorial Museum, "New Research on WWII-Era Concentration Camps in Europe," Athenaeum.
February 10, 12 p.m.: Professor Avraham (Alan) Rosen, Holocaust scholar, "Tracking Jewish Time in Auschwitz," . Co-sponsored with Hillel at the Claremont Colleges. Parents Dining Room, Athenaeum.
February 11, 12 p.m.: Professor A. Dirk Moses, European University Institute, "The Diplomacy of Genocide: Humanitarian Intervention in the Age of Decolonization," Athenaeum.
March 3, 7 p.m.: A special sneak preview of The Hunting Ground, a film exploring sexual crime on college campuses and institutional cover-ups. The film will be followed by a Q&A session with the Director, Kirby Dick. Sponsored by the Mgrublian Center for Human Rights, the Robert Day School of Economics and Finance at CMC, the Alexa Fullerton Hampton Fund of Scripps College, and Pomona College. The screening will be held at Garrison Theater, Scripps College campus.
March 5, 4:00 - 5:15 p.m.: Second Annual Careers in Human Rights Panel & Discussion, Freeberg Forum. Panelists include D'Artagnan Scorza, Ph.D (Executive Director of Social Justice Learning Institute), Cameron Munter (Former U.S. Ambassador to Pakistan and Serbia), and Bonnie Abaunza (contract consultant for the UN and Amnesty International's Top Person in the Arts). The panel will be followed by dinner in Parents Dining Room (CMC Athenaeum) from 5:30-7:30pm. RSVP via Claremont Connect to reserve your place!
March 9, 6:45 p.m.: Professor Timothy Snyder, Yale University, "Russia and Ukraine, War and History," Athenaeum.
March 10, 12 p.m.: Professor Marci Shore, Yale University, "A Civilization That Needs Metaphysics': Existentialism and Dissent in Eastern Europe", Athenaeum.
April 30/May 1: Human Rights Film Festival. Films TBA.
April 8, 6:45 p.m.: Professor Ronald Suny, University of Michigan/Ann Arbor, "'They Can Live in the Desert But Nowhere Else': Explaining the Armenian Genocide One Hundred Years Later," Athenaeum. Additional programming related to the centennial of the genocide being developed, including a teach-in on Syria, Northern Iraq, Turkey and ISIL/ISIS; a book launch; and a memorial ceremony.
April 15, 6:45 p.m.: Arn Chorn Pond, "Child of War, Man of Peace". Cambodian Genocide survivor, author of Never Fall Down, and founder of Cambodian Living Arts, CMC Athenaeum. Co-sponsored with members of the Women and Leadership Alliance (WLA), including the Berger Institute for Work, Family & Children, the Mgrublian Center for Human Rights, the Center for Writing and Public Discourse, the Kravis Leadership Institute, and the Marian Miner Cook Athenaeum.
May 6-7: Student Authors Meet Critics, "The Defense." Center fellows, and students with honors theses in human rights, genocide and Holocaust history, will publicly defend their research.
2013 Fall Events
October 16th Thanassis Cambanis, author of A Privilege to Die, scholar on the Middle East, Lebanon and Hezbollah. Co-sponsored with the Keck Center for International and Strategic Studies.
November 7th Hannah Arendt. Film screening on the life of philosopher and political theorist Hannah Arendt, who reported for The New Yorker on the war crimes trial of the Nazi Adolf Eichmann.
November 7th Roger Berkowitz, Ph.D., Scholar and Director of the Hannah Arendt Center at Bard College. Dr. Berkowitz will speak on the film and his interpretations of Arendt's work.
November 20th Gershon Baskin, Ph.D. Scholar and former Israeli Co-Director and founder of the Israel/Palestine Center for Research and Information (IPCRI). Dr. Baskin will speak on the Israeli/Palestinian conflict.
2013 Spring Events
February 20: Tareq Azim, a Pashtun born in the US whose family hails from Eastern Afghanistan. A previous boxer and Fresno State football player, he returned to Afghanistan in 2004 and began a boxing program for women, having gained support and protection from various elders/leaders, including from the Taliban. Out of that emerged the national boxing program and the first Olympic berth of an Afghan female boxer. (Lunch program)
February 26: Rachel Lloyd, President/CEO of GEMS (Girls Education and Mentoring Services). Ms. Lloyd is a survivor of childhood sexual exploitation and will share her story as well as the mission of GEMS and the issue of childhood sexual exploitation/trafficking in the U.S. She is also the author of Girls Like Us: Fighting for a World Where Girls Are Not For Sale, A Memoir (Dinner program)
April 1st: John Cho-Anthropologist at UC Berkeley who studies the LGBT community in South Korea to discuss the intersection between the LGBT movement, democracy and protection of human rights in South Korea. (Dinner program)
April 25: Film screening of Screamers, followed by Q & A with the film's director, Carla Garapedian. This film is focused on genocides of the 20th Century with particular emphasis on the Armenian Genocide and bringing awareness and acknowledgement to that. (Dinner program)
2012 Fall Events
September 20: CAST (Coalition to Abolish Slavery and Trafficking) Khanti Salgado, Survivor Advisory Caucus member ; Adriana Ramos '14, student intern, Marian Miner Cook Athenaeum, 6pm
September 25: The Invisible War, film screening, Q&A with Director, Kirby Dick, Marian Miner Cook Athenaueum, 6pm
October 10: Charles Waigi and Erna Grasz, Asante Africa Foundation, Marian Miner Cook Athenaeum, 11:30am
November 8: Ann Meyers-Drysdale, 40th Anniversary of Title IX, Marian Miner Cook Athenaeum, 6pm
November 14: James Gelvin, Ph.D., The Arab Uprisings, Marian Miner Cook Athenaeum, 6pm
Spring 2012
February 6: Ameena Qazi, co-hosted with the Muslim Student Association in the Athenaeum. Ameena's talk was titled Islamophobia, Discrimination, and National Security.
February 8, 2012: Stephen Smith, Executive Director of the USC Shoah Foundation Institute for Visual History and Education, Never Again, Yet Again: Listening to the Voices of Genocide, Marian Miner Cook Athenaeum
February 15: Barry Riley, visiting scholar in the Center on Food Security and the Environment at the Freeman Spogli Institute (FSI) for International Studies at Stanford University. His talk is titled Whither Food Security—The Food Insecure Poor: What Future Awaits Them?
March 22: Stand Up For Peace (comedians Scott Blakeman & Dean Obeidallah)
The Center co-sponsored this disarmingly funny comedy show that brings Jews, Arabs, Muslims and people from all backgrounds together to laugh, and encourages a dialogue in support of a peaceful, political resolution of the Israeli-Palestinian conflict.
April 17: Yehuda Bauer, Genocide and the Holocaust. Mr. Bauer is a world renowned holocaust scholar and spoke during the lunch program in the CMC Athenaeum
Fall 2011
Spring 2011
April 11: Paul Farmer, Imagining a More Just World: Partnering with the Poor
February 24: Peter Haas, The Israel-Palestine Conflict: Sinking in the Shifting Sands?
January 28: Jessica Beckerman, Pragmatic Solidarity and Breaking the Cycle of Poverty and Disease
Fall 2010
Spring 2010
April 27: David Shulman, Dark Hope: Working for Peace in Israel and Palestine
February 23: Mark Danner and David Kaye, Conference: Obama's Foreign Policy at Mid-Term, Panel: America's National Security Challenge, Co-sponsored with The Keck Center
February 11: Peter Thum, Dr. Sophal Ear, Fundraiser Event – Dorothy Chandler Pavilion, Los Angeles. More Than Noble: Human Rights – What's In It For You?
Fall 2009
Spring 2009
March 12: Anne Hastings, executive director of Fonkoze, the largest microfinance institution in Haiti. She participated in a panel to discuss "Building an Economic Foundation for Democracy." The other panelists included: Nzinga Broussard, assistant professor of economics, CMC; and Jorge Aguero, assistant professor of economics, U.C. Riverside.
April 15: Susan Neiman, director of the Einstein Forum, Germany; and author of Moral Clarity: A Guide for Grown-up Idealists (2008) and Evil in Modern Thought: An Alternative History of Philosophy (2002).
April 20: Robert Skloot, professor of theater and Jewish Studies, University of Wisconsin. Professor Skloot discussed the "Theater of the Holocaust."
Fall 2008
•November 3: Claude Alexandre, director of the Board of Directors for Fonkoze USA. The title of his presentation was "Microfinance NGO's and the Emergency in Haiti."
•November 5: Claudia Stevens, producing artistic director for PIANOPLY; visiting scholar in music at College of William and Mary. She performed her musical drama, "An Evening with Madame F," which is based on music sung and played by the women inmates at Auschwitz.
Spring 2008
•February 11: Efrain Inbar, professor of political science and director, Begin-Sadat (BESA) Center for Strategic Studies, Bar-Ilan University in Israel; author of The Israel-Turkish Entente (2001) and Rabin and Israel's National Security (1999). The title of his presentation was "Israel's Search for Peace and Security in the Middle East."
•February 14: Ruth Kluger, Leadership in Human Rights Series.
•April 17: Shirin Ebadi, Noble Laureate (2003); founder of the Children's Rights Support Association, Iran; co-author of Iran Awakening: A Memoir of Revolution and Hope (2006); and author of Democracy, Human Rights, and Islam in Modern Iran: Psychological, Social, and Cultural Perspectives (2003). The title of his presentation was "Iran Awakening: A Story of Revolution and Hope."
•April 24: Roy Gutman, foreign editor of McClatchy Washington Bureau; author of How We Missed the Story: Osama Bin Laden, the Taliban, and the Hijacking of Afghanistan (2008); and co-editor of Crimes of War: What the Public Should Know (1999).
Fall 2007
•October 8: Charles Clark, senior lecturer in European history at St. Catherine's College, Cambridge University; author of Iron Kingdom: The Rise and Downfall of Prussia, 1600-1947 (2006) and Politics of Conversion: Missionary Protestantism and the Jews in Prussia, 1728-1941 (1995). The title of presentation was "From Suicide Bombers to World Crisis: Serbia and the Outbreak of War in 1914."
•October 25: David Talbot, founder and former editor-in-chief for Salon.com and author of Brothers: The Hidden History of the Kennedy Years (2007). The title of his presentation was "Why JFK is Still Ahead of His Time."
•November 1: Paul Shapiro is the director for the Center for Advanced Holocaust Studies, U.S. Holocaust Memorial Museum. Mr. Shapiro discussed "Opening the Archives of the International Tracing Service."
•November 20: Judea Pearl, professor of computer science and statistics and director of the Cognitive Systems Laboratory at UCLA. He also is the founder of the Daniel Pearl Foundation and author of Causality: Models, Reasoning, and Inference (2000) and co-editor of I am Jewish: Personal Reflections Inspired by the Last Words of Daniel Pearl (2004).
Spring 2007
•January 22: Thomas Cushman is a professor of sociology at Wellesley College; editor of Journal of Human Rights and A Matter of Principle: Humanitarian Arguments for War in Iraq (2005); and author of The Human Rights Case for War: Ethics, International Law, and the Conflict in Iraq (2006). The title of his presentation was "Orwell in the 21st Century."
•February 21: Francis Bok, former Dinka slave in Sudan; lecturer for the American Anti-Slavery Group; and author of Escape from Slavery: The True Story of My Ten Years in Captivity, and My Journey to Freedom in America (2003). The title of his presentation was "21st Century Slavery: Living Proof."
Fall 2006
•September 13: Firuz Kazemzadeh, professor emeritus of history for Yale University; member of the United States Commission on International Religious Freedom; author of The Struggle for Transcaucasia, 1917-1921 (1952) and Russia and Britain in Persia: A Study in Imperialism, 1864-1914 (1968). The title of his presentation was "Iran and the Baha'is: A History of Persecution."
Spring 2006
•January 24: Michael Corriero is a judge for the Court of Claims, Supreme Court of New York. The title of his presentation was "A Model Juvenile Justice System Based on Human Rights Principles."
•February 6: Peter Thum '90 is the co-founder of Ethos Water and vice president for Starbucks Coffee. He spoke on "Social Entrepreneurship: Ethos Water and the World Water Crisis."
•February 16: Dale Minami is a civil rights attorney and partner at Minami, Lew and Tamaki in San Francisco. He was a litigant in the Supreme Court case Koremastu v. U.S. (1980). Mr. Minami discussed "Fraud on the Supreme Court: Civil Rights and the Japanese American Experience."
•March 6: Panel Discussion with David Scheffer and Terree Bowers discussing "Realizing a Legacy: The International Criminal Court, War Crimes, and International Law 60 Years After Nuremberg."
•April 6: Peter Singer is the Olin National Security Senior Fellow in Foreign Policy Studies for the Brookings Institution and author of Corporate Warriors: The Rise of the Privatized Military Industry (2003) and Children at War (2005).
•April 20: Charles Fishman is the distinguished service professor emeritus of English and director emeritus of the Distinguished Speakers Program at S.U.N.Y., Farmingdale. Dr. Fishman is the author of Country of Memory (2004) and Chopin's Piano (2006). His presentation was titled "Holocaust Poetry: A Reading."
Fall 2005
•November 21: Mark Geragos, managing partner of Geragos and Geragos, Los Angeles. The title of his presentation was "Sometimes Justice Takes Time."
Spring 2005
•January 31: Romeo Dallaire, former force commander of the United Nations Assistance Mission for Rwanda. The title of General Dallaire's presentation was "Shake Hands with the Devil: The Failure of Humanity in Rwanda." This presentation was part of the series titled "Torture, Human Rights, and the Geneva Convention."
•February 23: Walid Kazziha, professor of political science, American University, Cairo; co-author of Renewal of Islamic Law (2004) and State and Society in Mid-Nineteenth Century Egypt (2003). He spoke on "Prospects for Peace in Palestine."
•February 28: Paul Rusesabagina, former acting manager, Hotel des Mille Collines, Rwanda; as seen in the film Hotel Rwanda (2004). Windows Media
•March 9: Amnesty International-TASER Debate featuring William Schulz, executive director of Amnesty International, and Rick Smith, founder and CEO of TASER International. Windows Media.
•March 29: Heidi Rutz, assistant professor of strategy and policy, U.S. Navel War College. She spoke on "One Step Forward, Two Steps Back? Anti-terrorism Measures and the Implications for Political Liberalization."
•April 18: Richard Evans, professor of modern history, Cambridge University; author of The Coming of the Third Reich (2003) and Telling Lies About Hitler: History, the Holocaust, and the David Irving Trial (2002). He discussed "History, Truth, and Memory: Reflections on the Irving-Lipstadt Libel Case." Windows Media
•April 19: Chivy Sok, former deputy director for the Center for Human Rights, University of Iowa. The title of his presentation was "Leaving the Killing Fields Behind: The Quest for Social Justice and Human Dignity."
Fall 2004
•October 5: Michael Nutkiewicz, executive director of Program for Torture Victims, Los Angeles; author of Holocaust Museums: The Paradox of Sacred Spaces and Public Access (1993) and Not a Useable Past? The Holocaust and American Society (1999). This presentation was part of the series titled "Torture, Human Rights, and the Geneva Convention; Issues in the 2004 Presidential Election." Windows Media
•October 6: Seymour Hersh, journalist and author of The Dark Side of Camelot (1997) and The Chain of Command: The Road from 9/11 to Abu Ghraib (2004). Mr Hersh discussed "Inside Iraq's Abu Graib Prison" as part of the series titled "Torture, Human Rights, and the Geneva Convention; Issues in the 2004 Presidential Election." Windows Media.
•October 12: Jok Jok, assistant professor of history, Loyola Marymount University; author of War and Slavery in Sudan (2001) and Old Weapons New Soldiers: Slavery and Jihad in Sudan's Conflict (2003). He spoke on "Religion, Race, and the Humanitarian Disaster in Sudan. This presentation was part of the series titled "Torture, Human Rights, and the Geneva Convention; Issues in the 2004 Presidential Election."
•November 10: Allen Weiner, Warren Christopher Professor of the Practice of International Law and Diplomacy, Stanford University; author of Indirect Expropriations: The Need for a Taxonomy of "Legitimate" Regulatory Purposes (2003). He spoke on "International Law and America's War on Terrorism."
•November 16: Howard Wolpe, public policy scholar, Woodrow Wilson Center; former United States Congressman (D-Michigan); former chair, U.S. House Foreign Affairs Committee's Subcommittee on Africa; author of Urban Politics in Nigeria (1973); co-author of The United States and Africa: A Post-Cold War Perspective (1998). He spoke on "Challenges to Peacemaking in the Great Lakes Region of Africa." Mr. Wolpe's presentation was part of the series titled "Torture, Human Rights, and the Geneva Convention; Issues in the 2004 Presidential Election."
Spring 2003
•February 25: Michael Berenbaum, adjunct professor of theology and director of the Sigi Ziering Center for the Study of the Holocaust and Ethics, University of Judaism, Los Angeles; co-author of False Papers: Deception and Survival in the Holocaust (2000) and In the Shadow of the Swastika (1998). Windows Media
•April 10: Samantha Power, adjunct lecturer in public policy, Harvard University; co-editor of Realizing Human Rights: Moving from Inspiration to Impact (2000); author of A Problem from Hell: America and the Age of Genocide (2002). Her lecture was part of the series "Confronting Evil: Lectures on the Holocaust and Genocide."
Past Speaker Series
Torture, Human Rights, and the Geneva Convention (2004-2005)
Researching the Holocaust (2002)
Confronting Evil: Lectures on the Holocaust and Genocide (2003)
Perspectives on Genocide in the 20th Century (2003)
Atrocities on Trial: Nuremberg in Historical Perspective February 21-22, 2006
Past conferences
China and Human Rights: A Symposium
March 6-7, 2008
Co-sponsored with the Gould Center for Humanistic Studies and the Marian Miner Cook Athenaeum
Full Press Release

Lessons and Legacies IX: Memory, History, and Responsibility
Fall 2006

Gray Zones: Ambiguity and Compromise in the Holocaust and Its Aftermath
February 5 - 7, 2004