Ryal Lab Construction Site
In Spring of 2008, Ryal Poppa (CMC '57) dedicated $250,000 to the construction of a computer lab to be located in a central residential area. The former Phillips Apartments fit that bill. Watch the progress of the construction of this lab. As we already have a Poppa Lab, thanks to Mr. Poppa's generosity, we are naming this lab the Ryal Residential Lab, or simply the Ryal Lab.
Finish date: November 30, 2008.

Job Log - description of what is happening as we proceed through the construction!
Mouse over the thumbnails to see a full image.
Click on a thumbnail to see an archive of all pictures taken from that angle.
Pictures will be taken and posted as often as possible
Last update: 8/20/08
Here is an image of the basic layout with the locations of the pictures in green. Mouse over to display image.
Here is a quick image of the basic layout as it stands now - with the apartments. The locations of the pictures is in green."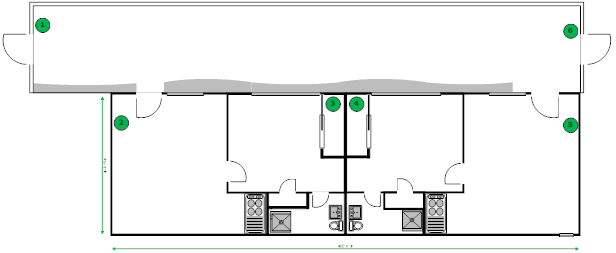 Here is a quick map of the campus with the location of the Ryal Lab highlighted with a blue circle. The Dorms are colored green, showing how central the Ryal Lab is to the residence halls.