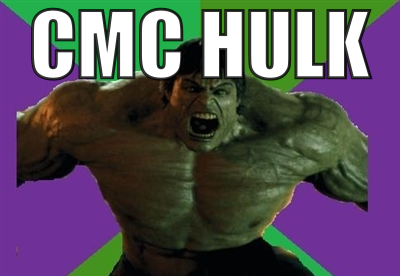 In the world of Twitter, many memes have been created. One in particular is the ever-smashing green Hulk. There's a feminist Hulk, an editor Hulk, a grammarian, a film critic, and the list continues.
Claremont McKenna now has its own green monster, talking about the college within the Twittersphere. @CMCHulk says he's a "hulk student" who enjoys internships and hanging out with John Faranda.
The student behind the Twitter account thus far is anonymous and he/she wishes to remain that way. However, @CMCHulk did agree to an exclusive interview, in which he has shared the things he loves most about life and about CMC.
Q: What was the impetus for creating a CMC Hulk? Is it something you just thought would be fun to do on Twitter or was there other specific inspiration?
A: HULK THINK GENESIS OF IDEA WAS BORN OF ADMIRATION FOR OTHER HULKS. HULK SAW RISE OF HULKS ON TWITTER (@FEMINISTHULK, @GRAMMARHULK, AND @FILMCRITHULK SOME OF HULK'S FAVORITES) AND WANT PARTICIPATE. HULK LOVE CMC FROM BOTTOM OF BIG GREEN HEART AND THOUGHT TWEETING GOOD WAY OF REPRESENTING STAGTHENAS PROUDLY TO HULK/TWITTERVERSE.
Q: How do you think the CMC community benefits from your tweets?
A: (HULK BLUSH) HULK LIKE TO THINK CMC COMMUNITY BENEFIT FROM TWEETS BY HULK PROVIDING CHEAP, EASY LAUGHS AT VARIOUS CMC TROPES. SOMETIMES IN MIDST OF "GO! GO! GO!" PACE OF CMC ACADEMIC AND EXTRACURRICULAR LIFE, HULK FIND IT GOOD TO SIT BACK AND LAUGH AND REMEMBER HULK AT GREATEST PLACE ON EARTH.
Q: You are anonymous. Why? And do you think you will ever reveal yourself?
A: HULK THINK ANONYMITY CRITICAL TO SUCCESS AS HULK IMAGE AS A KIND OF ARCHETYPAL CMCER. HULK WANT TO BE CHARACTER IN WHICH ALL STAGS AND ATHENAS SEE THEMSELVES AS A PART. REVEALING HULKSELF WOULD SMASH THAT POSSIBILITY.
Q: Amongst the CMC dorms, which is your favorite and why?
A: HULK LIKE AUEN AND FAWCETT HALLS. CENTERING ROOMS AROUND COMMON LOUNGES FOSTERS STRONG BONDS OF COMMUNITY WITH FLOORMATES. ALSO HAVE BEST VIEWS IN INLAND EMPIRE.
Q: What is your favorite thing to eat in Collins?
A: THIS TOUGH. HULK HAVE TO SAY LUNCH FOCCACIA-TYPE BREAD REALLY GOOD. HULK ALSO TRULY APPRECIATE WEEKDAY SNACK.
Q: Favorite professors?
A: HARD TO PICK FAVORITE PROFESSORS AT CMC WHEN HULK LOVE THEM ALL, BUT HULK WOULD BE AMISS TO NOT MENTION PROFESSORS BILGER (LITERATURE) AND SELIG (HISTORY). BOTH VERY KNOWLEDGEABLE AND EXEMPLIFY CMC CULTURE OF PROFESSOR-STUDENT INTERACTION AND COLLABORATION.
Q: What was your last purchase?
A: HULK GO TO HUB STORE, BUY ALL FIVE HOUR ENERGIES. OFF CAMPUS, HULK SPEND FAR TOO MUCH MONEY AT BOOKSTORE. #NERDYHULKPROBLEMS
Q: Is there anyone you have a crush on?
A: HULK HAVE HULK-SIZED CRUSH ON CERTAIN ATHENA. SORRY SHEHULKS, THIS HULK'S UNAVAILABLE.
Q: Are you shy?
A: HULK NOT SHY PER SE, BUT NOT AS LOUD AND SMASH-DRIVEN AS MANY OTHER HULKS. HULK RAISE HULK HAND IN CLASS AND ACTIVE IN DISCUSSIONS, BUT NOT FEEL NEED TO SHOUT ALL HULK THOUGHTS, EXCEPT ON HULKTERNET.
Q: What are your dreams and aspirations?
A: HULK HOPE ONE DAY TO BE PROFESSOR, IDEALLY AT CMC. IF HULK NOT GO THAT ROUTE, HULK WANT WORK IN POLICY WONKERY, PUBLIC INTEREST LAW, OR THINK-TANK WORK.
Q: How has CMC's influence inspired your life thus far? Are there leadership qualities that you feel you possess or have developed?
A: CMC ALWAYS PUSH HULK TO STRETCH HULK MIND AND IDEAS BEYOND HULK COMFORT ZONE. STIMULATING PROFESSORS AND ENGROSSING DISCUSSIONS FORCE HULK TO THINK CRITICALLY ABOUT OWN VIEWS AND BECOME BETTER ANALYTICAL THINKER. HULK FEEL HULK HAS GROWN AS LEADER THROUGH MANY EXTRACURRICULARS AND LOVES BEING SURROUNDED BY OTHER HIGHLY MOTIVATED CMCERS.
Q: What are your future career goals?
A: HULK CURRENT PLAN TO GO TO GRAD SCHOOL AND EARN PhD WITH GOAL OF BECOMING PROFESSOR AT SMALL LIBERAL ARTS SCHOOL (IDEALLY CMC, OF COURSE).
Q: If you could take only one book to the moon, which would you be reading?
A: THIS VERY TOUGH. HULK TORN BETWEEN THE FEDERALIST PAPERS AND ANNOTATED COPY OF EZRA POUND'S THE CANTOS. BOTH BOOKS HULK COULD READ AD INFINITUM AND LEARN MORE FROM EACH TIME.
Q: Amongst your CMC experiences thus far, is there a stand-out event or moment that has crystallized itself in your mind as something you will remember forever?
A: HULK HOLD MANY CMC MEMORIES NEAR AND DEAR TO HULK HEART, BUT HULK KNEW HAD FOUND HIS HOME LONG AGO AS A FRESHHULK DURING ORIENTATION WEEK WHEN RAs AND SPONSORS THREW "SURPRISE" FOR HULK AND HULK'S FELLOW FIRST YEARS.
Q: If there was one thing you could add to CMC, what would it be? Anything you'd subtract?
A: HULK WOULD ADD MORE OF A STUDENT ART AND MUSIC SCENE ON CAMPUS. NICE TO HAVE COMMUNITIES AT OTHER 5Cs FOR THIS, BUT LOCALIZED MOVEMENT WOULD BE GREAT TOO.
Q: Do you ever go to the Hub? Do you eat the Rice Krispy treats at the Ath? What are some other places you like to relax on campus?
A: HULK LOVE HUB AND TEATIME AT ATH! FOR RELAXING, HULK FOUND LOUNGING ON PARENTS FIELD, BOOKS AND SNACKS IN HAND.
Q: Where do you see yourself in ten years?
A: HULK HOPE TO BE OUT OF GRADUATE SCHOOL IN TEN YEARS, TEACHING CMCERS AND WRITING FOLLOW-UP TO FIRST BOOK (WHICH HULK HAS ALREADY STARTED WRITING).
Q: Do you have an iPhone?
A: HULK PART OF (SEEMINGLY ANTIQUATED) TEAM BLACKBERRY.
Q: Last thing you smashed?
A: RECENTLY IN PHILOSOPHY ESSAY, HULK SMASHED WILLIAM JAMES' "THE WILL TO BELIEVE." VERY SATISFYING SMASH.
Q: Bonus question. It's 4:00 pm on a weekday, it's a sunny Claremont day, where are you on the CMC campus? Who are you with? And what do you have planned for the evening?
A: HULK IDEAL WEEKDAY? BY 4:00, HULK USUALLY DONE WITH CLASSES, SO CAN BE FOUND BACK IN ROOM, READING AND LISTENING TO MUSIC WITH FLOORMATES. THEN HULK AND HULK FRIENDS SPEND TEN OR FIFTEEN MINUTES DEBATING WHICH DINING HALL TO EAT AT, ANOTHER TWENTY MINUTES FOR EVERYONE TO GET READY AND CORRALLED, THEN HEAD OUT. AFTER DINNER COMES USUAL POST-DINNER DISCUSSION AND DEBATE ABOUT POLITICS, PHILOSOPHY, CULTURE, ETC. HULK AND HULK FRIENDS REALIZE AFTER WHILE THAT HAVE ACTUAL HOMEWORK, SO RETREAT TO RESPECTIVE ROOMS, WORK UNTIL ABOUT 10:20 WHEN PRE-SNACK JITTERS SET IN. SNACK IS TWENTY OR THIRTY MINUTE SANITY BREAK, THEN BACK TO BOOKS. LATE NIGHT USUALLY INVOLVE MORE PHILOSOPHIZING AND MUSIC-LISTENING. FALL ASLEEP AT AROUND 2AM, REPEAT.
To find @CMCHulk on Twitter, visit: http://twitter.com/cmchulk