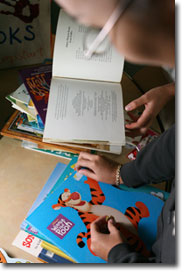 Donations of new and used children's books are being collected now through Saturday, Dec. 6 at various drop-offs across campus, benefiting JumpStart, a a 5-C organization that for seven years has been training college students to help build early language and literacy skills in low-income preschools.
Donations of books may be placed in the colorful box under the bulletin board in the lobby of Collins Dining Hall. At the conclusion of the drive, volunteers will clean and repair books as necessary (removing price tags, taping torn pages, etc.) and distribute them to local preschools served by JumpStart.
Organizers, who surveyed teachers to determine which books would best suit their classrooms, hope to collect more than 200 books this year for children ages 3-5.
JumpStart volunteers serve as Corps members for eight months out of the year and attend a two-hour session at affiliated preschools twice weekly. In these sessions, children do one-to-one reading with their Corps member as well as group activities to promote social interaction. Periodically, Corps members also work with a preschool's larger community on site-improvement projects, including gardening and classroom renovation.
Hannah Gregg '12