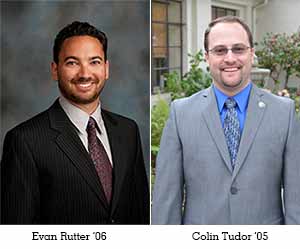 In the parlance of the card game Blackjack, the city of Claremont has just "doubled-down" with the recent hiring of two CMC alumni: Colin Tudor '05, as assistant city manager, and Evan Rutter 06, as a city commissioner.
But for Claremont, it's really no gamble at all since both men bring a wealth of experience to their new roles, and are as determined to "make good" for the city as they were for CMC when they were students.
"I am really excited about having the chance bring positive change to an organization I have been a part of for many years," says Tudor who, beginning in January 2012, had served as assistant city manager in an interim capacity. "I am now in a position to improve systems and processes I experienced while working in various positions, and at different levels. My goal is to leave the organization more efficient, more user friendly, and more technologically savvy than when I started."
In addition to his city of Claremont joba four-year term appointed by the Claremont City CouncilRutter will remain employed at CMC, where he is assistant dean of admission. For his part, Rutter says that in his official capacity as a Traffic & Transportation City Commissioner, he hopes to also strengthen the experience of visitors to The Colleges. "(My city responsibilities) naturally will translate to the admission office experience, and attracting the best faculty, staff, and applicants to The Colleges," he says.
According to Tudor, Claremont has an annual budget of $40 million, and more than 180 employees. As assistant city manager, his responsibilities will include overseeing municipal services such as police, trash collection, sewer and road maintenance, and management of the urban forest and park and recreation programs for all ages.
"The oversight of the administrative department which includes technology and personnel is also under my supervision," he says. "In addition to the daily operations of the organization, I work directly with the city manager and city council to draft policy for the city."
Rutter will be tasked with advising the city council, listening to Claremont residents, and analyzing reports and studies. "We meet every month, with a thick packet of documents, comments, issues, and surveys to discuss in open forum, and provide recommendations to the city council," he says.
Two years ago Rutter was approached by a city commissioner who thought he would have a lot to offer the city of Claremont. After some exploratory conversations, Rutter decided to apply for the open position and soon after landed the job.
According to Rutter, the projects he's likely to be involved in during his term include three development projects on Baseline Road; the second Village West expansion (demolition of the old Rich's ice packing plant to create a four story mixed-use facility to include condos, restaurants, parking and shopping); and the possible opening of First Street to Monte Vistacreating a new gateway for Claremont and The Claremont Colleges.
"The most daunting challenge, I feel, is to be an economically progressive city, as cities in California are heavily dependent on sales tax revenue," Rutter says. "Claremont has improved its position in the past five years with the first Village West expansion, which helped put the city in a better economic position than other cities nearby.
"We have to continue to be an innovative leader in responsible and sustainable economic development," he continues. "We need to make sure Claremont is a destination city in the Inland Empire, and beyond. My main goal right now is to continue to make Claremont a productive, safe, and sustainable city that improves the experience of those who live in, and visit, Claremont."
In Tudor's view, the biggest challenge currently facing local Claremont government is financial stability. "Over the past several years, Claremont has taken actions to ensure we remain strong financially," Tudor says. "By acting early and decisively, we are in a much better financial situation then many surrounding cities. Nevertheless, our budget is about 10 percent less, and our staffing levels are about 20 percent less, than they were several years ago. Yet we are still providing nearly the same level of service to the residents of Claremont. Maintaining this high level of service in a reduced budget scenario will remain a challenge in the coming years."
According to Tudor, hand in hand with the issue of financial stability, the most pressing issue for the community and for the city council is responding to water issues.
Golden State Water, a private company, is the city's water provider and every three years, the company requests and is granted a water rate increase by the PUC. This year, Golden State Water applied for a rate increase of 15 percent.
"Our residents pay some of the highest water rates in Southern California," Tudor says. "Water rates have a major impact on our residents, and the council has been fighting the increase every step of the way. To that end, the city council is looking at options to acquire the water system as a means of gaining local control over rates. For my part, I hope to ensure that the council has as much and as accurate of data possible to make further decisions on the acquisition of the water system."
As both men stand poised to make a difference in Claremont, each recalled sage advice gained at CMC that they hope to draw on in their new jobs.
Tudor: "CMC taught me the ability to work on multiple things at once, critically analyze data and information, and put into practice the communication skills needed to present information to a variety of different individuals, interest groups, and audiences."
Rutter: "I remember my U.S. Congress course with professor Jack Pitney exceptionally well. Not only did it teach me the value of all politics being local politics, it taught me the procedures necessary to carry out some of my duties as a commissioner."
And underscoring the fact that a CMC connection is a lifelong tie that binds, Rutter says that he's impressed with Tudor's career path.
"I was impressed when he was appointed interim assistant city manager and hoped he would be hired as the permanent replacement," Rutter says. "CMC graduates have always proven to be hard workers and change makers. I definitely put Colin in this camp. I'm excited to share this connection with Colin, and hope to work together to make Claremont an even greater place."