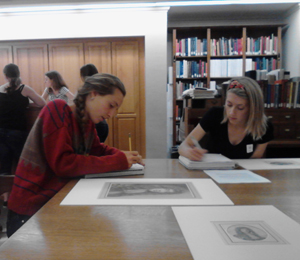 As the culmination of a semester-long course on English cultural history (Tudor and Stuart England), students from CMC are contributing to an exhibition at the Huntington Library, Art Collections, and Botanical Gardens in San Marino. And it likely marks the first time that college students have ever been involved as an exhibition partner with The Huntington.
"It definitely is the first time a college class has curated a show in the Works on Paper gallery at The Huntington," said associate curator of British art Melinda McCurdy, who is assisting the students with the exhibition.
The CMC class, taught by visiting professor of history Victoria Sancho Lobis, is designed to provide a unique hands-on research and exhibit opportunity for students.
Students were each assigned a small portrait from The Hungtington archiveswhich included rarely-seen and notably fragile miniature graphite drawings of nobles and monarchs, pastel sketches of unattributed sitters, and pen-and-ink drawings of artists and their family members. Collectively, the images tell a story of how members of English society chose to portray themselvesand how they continue to be seen today.
After a tour of the museum and a preview of the space where the exhibit will be, the students then scrutinized the works of art in a private study room and addressed questions about them to McCurdy.
They next wrote an analysis of the physical properties of the portraits, and contributed research papers examining the lives of the subjects in the pictures, as well as their importance in England during the 17th and 18th centuries. Finally, from this research, the class will write a short, 150-word object label to accompany the selected works, which will be presented as a temporary exhibition July 28-Oct. 29 in The Huntington's Works on Paper gallery.
"My hope is that the students will gain some familiarity with exhibitions as a public forum for the presentation of historical research," Lobis says. "By contributing research and writing, and through our collective discussions about choices involved in the presentation of objects, I also hope they will gain insight into the conception and execution of exhibitions."
According to history major Heidi Carlson '12, "There's something refreshing about having a work of art in front of you rather than on a page in a textbook. You finally get a sense that the art is real; you feel like a real historian."
Lobis says the project grew from her discussions with McCurdy. "I knew I wanted my students to visit The Huntington since it is one of the premier destinations for studying English art in the United States," Lobis says. "Melinda and I were brainstorming about different ways that the students could interact with The Huntington art collections, and the idea for an exhibition related to The Huntington's small-format English drawings emerged as a realizable possibility."
In McCurdy's estimation, projects like the exhibition are valuable because they give students a chance to apply what they have learned in class by working with real cultural artifacts. "Works on paper are especially good for this, as they require intense examination to understand how they were made, and why they look the way they do," she says.
From a museum professional's perspective, that pause for examination and reflection is a small victory. "It's why we work so hard to preserve these things in the first place," she said. "And if the students take some understanding of that away with them, then the project has served its purpose. Having students analyze and interpret the works of art, and bring their own knowledge and vision to the project, makes us all see these objects in a different way. I'm really looking forward to seeing what they come up with."
So are the students.
"It has been remarkable to have the chance to work firsthand with artwork that has survived for so long," says Kathleen West '12. "It's like looking back in time at the image of someone long gone, but still presenta window to life in 17th century England. It's a wonderful culminating experience to be able to take all the knowledge we have gained about the history of the period and apply it to help our understanding of the cultural relevance to art pieces.
"In addition," she says, "curating this exhibit has given us the opportunity to share this knowledge with others in the community."