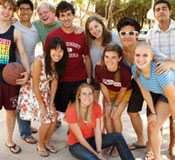 Claremont McKenna College has been named by Consumers Digest as a "Top Value" among private liberal arts colleges, according to the publication's May/June 2011 issue, now available on newsstands. The special-feature issue ranks 100 colleges and universities as top values out of some 2,000 U.S. schools offering four-year degrees.
The rankings are based on attributes that validate or define the institutions' academic prowess, factored against annual cost of tuition, fees and room and board. Among 50 public institutions cited, Truman State University ranked No. 1. Among 25 private institutions, Yale University took top honors. And among the 25 private liberal-arts schools, Claremont McKenna ranked No. 5. Grove City College landed at the top of that list in first, followed by Williams College (No. 2), Pomona College (No. 3), and Amherst College (4th).
The rankings were derived from a formula that blended the academic excellence of first-time freshmen at a school (standardized test scores, high-school rank, grade-point average) with the institution's educational quality (4- and 6-year graduation rate, student-retention rate, percentage of faculty holding a Ph.D.). That "value index" score was factored with the cost of attending each school to determine which schools offered the most academic value per dollar.
"Our analysis is designed to help families make an informed decision that puts their hard-earned money to the best use," says Randy Weber, publisher of Consumers Digest.
The average annual cost of attendance at CD's top schools was $47,156 at private colleges/universities and $26,344 at public colleges/universities. (Read more here.)
*** About Claremont McKenna College Claremont McKenna College, established in 1946, is among the highest-ranked and most selective liberal arts colleges in the nation. CMC excels in preparing students for leadership through the liberal arts in business, the professions and public affairs. The College is home to more than 130 accomplished teacher- scholars who are dedicated to teaching and to offering unparalleled opportunities for student collaboration in the research process. Enrolling approximately 1,200 students, CMC combines highly-selective need-blind admission, innovative programs, a 9-to-1 student-faculty ratio, ten research institutes, the impact of the seven-member Claremont College Consortium, and a strong and committed network of alumni, to educate its graduates for a lifetime of leadership.