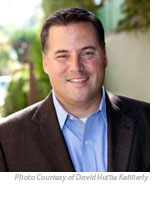 Geoffrey Baum '85 has been reelected to the Pasadena City College Board of Trustees. The incumbent, from Area 1, was reelected on Tuesday, Nov. 3, 2009, with 70 percent of votes cast. Area 1 encompasses western Altadena, La Canada-Flintridge, and the Linda Vista and San Rafael areas of Pasadena.
Baum has been a PACCD trustee since 2001, and also sits on the California Community Colleges Board of Governors, which "formally interacts with state and federal officials and other state organizations." His six-year term on the 17-member Board ends in the year 2014. Read full article about his appointment to the California Community Colleges Board of Governors last year.
Congressman and Claremont McKenna College Trustee David Dreier '75 says Baum has visited him in Washington on several occasions "to provide effective advocacy for Pasadena City College.
"He has distinguished himself as a thoughtful leader with a collaborative approach that serves our state and our students well," Dreier added. "Our system of higher education depends more than ever on community colleges that provide outstanding instruction for students across a broad range of skills and interests. Geoff has the energy and the experience PCC needs to meet the many challenges ahead."
Baum, who is managing director of the Center on Communication Leadership and Policy at the University of Southern California's Annenberg School for Communication, is also one of six new members to join the Kravis Leadership Institute Advisory Board. New Board member bios.
"My experience working with the very best at CMC, including former President Jack Stark and President Pamela Gann, along with USC President Steven Sample and Annenberg School Dean Geoffrey Cowan, has given me great insight into what makes colleges and universities successful," Baum has previously said. "Likewise, Pasadena City College is among the state's top community colleges in both the number of transfers to four-year colleges and universities, and in the breadth of career and technical programs offered.
"Many lessons from these institutions can be applied to the state's community college system as a whole," Baum says.
More on Baum can be found on his campaign Web site.