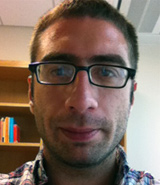 Assistant professor of government Giorgi Areshidze has co-written an OpEd for the Christian Science Monitor with his brother, Irakly George Arison Areshidze. The piece, The path forward in Georgia: Will billionaire Ivanishvili invest in democracy?, is about the major parliamentary elections held Oct. 1, 2012 in the Republic of Georgia, the former Soviet state in central Eurasia.
Both professor Areshidze and his brother were born in Georgia, and frame their article around the defeat of President Mikhail Saakashvili (a repudiation, says professor Areshidze, of many years of abusive and authoritarian rule), and the table now being set for billionaire businessman Bidzina Ivanishvili to become Georgia's prime minister.
The editorial outlines how Georgia got into this position, and the steps that American foreign policy makers should encourage the new government to take in order to help consolidate democracy.
"To help nurture the Georgian democratic transition, American policymakers should seek to strengthen indigenous and local elements of civil society that already exist in Georgia, such as the Georgian Orthodox church," write professor Giorgi Areshidze and his brother, who is the author of Democracy and Autocracy in Eurasia: Georgia in Transition (Michigan State University Press). Adds professor Areshidze, "These elections are very significant because they are shaping up to lead to the first peaceful and legitimate transfer of government authority in the country."
Areshidze, who is in his second year of teaching at CMC, earned his bachelor's degree in political science at Middlebury College. He is defending his dissertation, What Can the Modern Enlightenment Teach Secularism and Comparative Constitutionalism?, at the University of Texas at Austin later this month.
His research interests include ancient and modern political philosophy, and their contribution to modern liberal constitutionalism; comparative secularism and religion; comparative constitutional design and democratic transition, with a focus on former Soviet states; and the role of civil society, private enterprise, and religion in securing conditions for limited government.