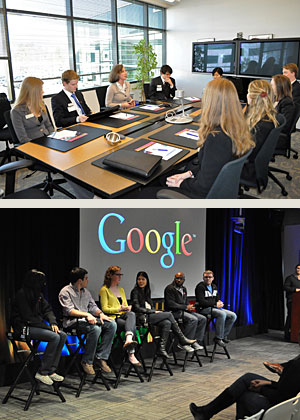 This fall, a group of CMC students will learn what it's like to work for some of Silicon Valley's leading tech companies.
The Claremont Colleges Silicon Valley Program, modeled on CMC's academic and internship program in Washington, D.C., will place students in full-time internships with leading Silicon Valley companies and provide them with two tech-focused business seminar courses.
The Silicon Valley Program has been designed to fully immerse students in the Silicon Valley lifestyle. Silicon Valley tech companies are renowned for their after-hours activities and work hard/play hard lifestyle, so courses will be held on Saturdays to ensure that students get a chance to experience everything Silicon Valley work days (and nights) have to offer.
The companies that will host interns are still being determined, but more than 40 companies have expressed interest in participating. Program organizers have built interest among companies for the program through outreach to Claremont Colleges' alumni working in the tech industry and their networks.
The Silicon Valley Program is being built on a foundation laid over the past several years by CMC's Information Technology Advisory Board (ITAB), an organization developed by CMC Trustee Bart Evans. For the past seven years ITAB has led a Silicon Valley Networking Trip that takes students on a whirlwind one-week tour of some of the Valley's leading companies. Along with giving students a picture of what it is like to work in the tech field, the trip has solidified bonds with many companies that are showing interest in hosting students for the Silicon Valley Program.
"This is a tremendous opportunity for the Claremont Colleges to do something very new," said Michelle Chamberlain, CMC's Director of External Relations who has played a big role in preparing the Silicon Valley Program. "I'm surprised that there aren't many Bay Area schools doing the same thing. We are planning to act quickly to establish this program because we believe it will be emulated immediately."
Chamberlain said the program is also an opportunity for Silicon Valley's tech leaders to learn a thing or two.
"These companies love the perspectives of students who have grown up with social media," said Chamberlain. "In the tech field, students have a point of view and talent that is respected and can't necessarily be emulated by experienced professionals."
Chamberlain says she hopes the program helps to enhance the reputation of the Claremont Colleges in the Silicon Valley, increases the placement of our students in the technology sector and provides an entrepreneurial spark.
"I think this program is a great chance for students to bring back some of the entrepreneurial spirit that CMC was founded upon. The Silicon Valley Program is a great catalyst for this attitude as students work with some of the world's leading entrepreneurs."