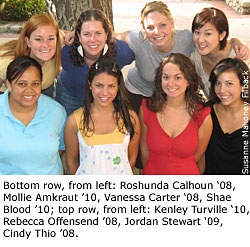 In the category of best-kept secrets, the Career Services Center employs a small but mighty staff of Student Career Consultants who act as liaisons between the Center and the greater student body, providing classmates with information that may ultimately kick-start careers. This assistance includes everything from searching for and applying for jobs to identifying internships, scholarships, fellowships, and graduate and/or other professional schools.
Career Consultants, who are selected in spring and serve the entire academic year, also familiarize students with resources available in the CSC library, specialize in resum? and cover-letter writing and review, and represent the College while hosting employer presentations and industry nights.
Typically on the other side of the questions, we've taken the liberty of introducing them, below: Roshunda Calhoun '08
Major: Economics-accounting with a financial economics sequence
Grew up in: Buena Park, Calif., about 45 minutes south of CMC
Recent travels: Studied abroad in Singapore last fall semester at the National University of Singapore; interned this past summer in the finance & control department at Nestle.
Career interests: Public accounting or consulting with a large firm; hopes to take her CPA exam upon graduation
Future plans: Graduate school in five years to earn her MBA
Other interests: Graphic design, advertising, cinematography, Excel, and her scooter, Gonzales Mollie Amkraut '10
Major: Double-majoring in economics and psychology
Growing Up: Born in Jerusalem, Israel, and raised in Seattle; has fallen in love with the city of Claremont.
Teenage Athlete: Played soccer, ran cross-country, and was on the swimming and rowing teams at her small, private high school
Career interests: Marketing, advertising in particular
Other interests: beach trips, baking, and scrapbooking Vanessa Carter '08
Major: International relations and government with a focus on developing nations
Recent travels: Spent a year studying off-campus in Washington, D.C., and in Santiago, Chile. As part of the Washington Program, she interned with Women's Foreign Policy Group; this past summer, she interned with Student Movement for Real Change as a project director in Mpumalanga, South Africa. (Read story: http://www.claremontmckenna.edu/news/insidecmc/2007october/africa/).
What makes her tick: Global human rights issues especially those related to genocide; looks forward to further studying disadvantaged communities and the causes and effects of worldwide poverty.
Other interests: running, playing the piano, and being with family and friends Shae Blood '10
Major: Dual major in Environment, Economics, and Politics (EEP) and Spanish
Grew up in: the small, quaint town of Ashland, Ore., known mainly by outsiders for the Oregon Shakespeare Festival.
Other interests: Snowboarding, dance, volunteer work, and time with friends Kenley Turville '10
Major: Biology
Hails from: Bountiful, Utah
Recent travels: Limerick, Ireland, where she helped with an Operation Smile Leadership Conference
Career interests: Medicine
Other interests: Skiing (water and snow), photography, dancing Rebecca Offensend '08
Major: Philosophy, Politics, and Economics (PPE)
Studies abroad: Italy, Spain, and, most recently, Vietnam, where she did a research project on the economic, cultural, and agricultural effects of the booming Vietnamese coffee industry. Previously, worked as the Central American intern at the Center for International Policy in Washington, D.C.; was co-field coordinator for a local congressional campaign; and worked at the Partnership for New York City (PFNYC), a nonprofit in New York specializing in local economic development and policy research.
Other interests: Snowboarding, cooking, and sunset watching Jordan Stewart '09
Major: Politics, Philosophy and Economics (PPE) with a leadership sequence
Grew up in: Minnetonka, Minn.
Career consultant veteran: Celebrating her second year as a career consultant; enjoys one-on-one contact with peers in finding them jobs and internships.
Scholar-athlete: Member of the CMS swim and dive team, achieving All-SCIAC, All-American, and Academic All-American honors
Other interests: Mentors a child in the community, weeklydescribed as one the most rewarding experiences; loves the Southern California weather and sun. Cindy Thio '08
Major: Economics-accounting, with a financial economics sequence
Grew up in: Jakarta, Indonesia
Recent travels: Worked at Prager, Sealy & Co., a boutique investment bank in San Francisco, this past summer
As a career consultant: Enjoys helping students with career plans
Other interests: Travel, living in big cities, eating, and art