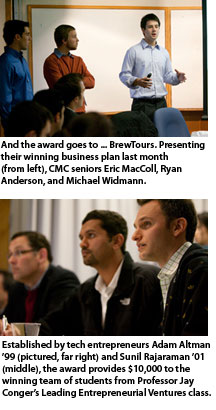 BrewTours, the brainchild of CMC seniors Ryan Anderson, Eric MacColl, Andrew Hess and Michael Widmann, is the recipient of the first annual Innovative Startup Award from the Kravis Leadership Institute.
Established by tech entrepreneurs Adam Altman '99 and Sunil Rajaraman '01, the award provides $10,000 to the winning team of students from Professor Jay Conger's Leading Entrepreneurial Ventures class. In the course, students learn about finding business ideas, securing funding for ventures, the leadership challenges facing entrepreneurs, building an organization and culture that support a successful venture, and the opportunities and challenges that ventures face at the different life stages.
This included students creating business plans and presentations to pitch to Altman and Rajaraman. The Innovative Startup Award allows students to take their proposals from classroom to reality by providing startup money to launch the winning business.
"CMC has an impressive track record with regard to successful entrepreneurs passing through its halls," said Rajarman. "We created this prize to encourage young entrepreneurs to take their first big chance while they are still students."
Altman, who started his first company during this senior year at CMC, is enthusiastic about providing CMC students not only with the opportunity to receive financial support for their business plan but also about sharing his personal experiences. "We had very few resources and no guidance when I started my first business," said Altman. "I remember having lunch with Sunil one day and telling him we need to help students avoid the pitfalls we encountered."
Students gathered in a conference room on Dec. 11 to present their plans and receive feedback from the alumni investors. From barriers to entry to customer acquisition costs, the students demonstrated a depth of knowledge in their given product markets. Both Altman and Rajaraman were impressed by the presentations. "The students all demonstrated a remarkable amount of maturity and poise in their presentations, and they are far ahead of where we were when we were students at Claremont," observed Rajaraman.
Using their own entrepreneurial experience, the judges looked for students who were passionate about their business ideas and considered market opportunity, diligence in research, and potential to reach profitability.
BrewTours, the winning team, is a company that will host tours of craft breweries in the San Francisco area. Brew Tours was inspired by founder Anderson's passion for craft beers and the gaps he discovered in the craft beer market while doing research for his senior thesis on the same topic. He recognized similarities between the markets for wine and craft beers, but found that the beer industry lacks the same emphasis on consumer education.
"Most consumers do not purchase beer products that they are unfamiliar with, especially if they are expensive," said Anderson. "BrewTours is an innovative way to market craft beer and provide the ultimate destination for hands-on' education for craft beer consumers."
With the support of the award, BrewTours will begin to take its first steps. The team will improve their knowledge of craft beer by visiting local breweries, talking with enthusiasts, brewers, and bartenders, and becoming active in online craft beer forums. Furthermore, they will pursue additional funding by tapping their personal networks.
In order to receive the full award, BrewTours must accomplish several criteria established by the Innovative Startup Award investors. Altman and Rajaraman will work with the students to measure progress and share their combined experiences in business entrepreneurship. Beyond contributing his business expertise, Altman hopes to contribute in another important way, "I hope to be one of their first customers."
Adam Altman '99 majored in economics at CMC, graduating magna cum laude. He went on to start four and sell three companies, including iwin.com and Traffic Marketplace. His current project is iReel, an online movie rental service. He is the new father of twin girls.
Sunil Rajaraman '01 was an economics and accounting major at CMC. He attended the UCLA Anderson School of Management for his MBA and is currently the President and CEO of Scripped, an online screenwriting service that combines cloud computing and web-based software to make the screenwriting process easier both for writers and audiences searching for content.
By Emily Meinhardt 10 and Kelsey Brown '13.