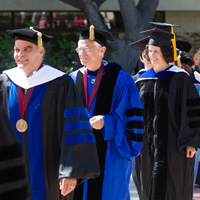 The 65th Annual Convocation ceremonies will be held at 11 a.m. on Tuesday, Aug. 30 in McKenna Auditorium. The ceremony will welcome new and returning students, faculty, and other employees of the College to campus. President Pamela Gann will guide the ceremonies, with featured speaker Gregory Hess, vice president for academic affairs, dean of the faculty, James G. Boswell Professor of Economics and George R. Roberts Fellow. The title of Dean Hess's talk is A Thoughtful, Productive and Responsible Life. In addition, the Office of Admission will be distributing a special gift to attendees.
In order that students may attend, classes scheduled at 11 a.m. and noon on Tuesday will be postponed.
Ceremonies also include recognition of staff and faculty with 25, 30, 40, and 55 years of service to the College. Staff and faculty with 25 years of service include:
Kersey Black, professor of chemistry
David Edwards, manager, Marian Miner Cook Athenaeum Deborah Johnson, web programmer/analyst, Information Technology Services
Detlef Ott, departmental coordinator, W.M. Keck Science Department Brenda Petrali, administrative assistant, Office of the Registrar
John J. Pitney, Crocker Professor of Politics
Lillian Ramirez, building attendant, Facilities and Campus Services
Marcia Reich, administrative assistant, Office of Admission
Kathy Troxel, associate athletic director, Claremont-Mudd-Scripps Athletics
Robert Valenza, Dengler-Dykema Chair of Mathematics and the Humanities Staff and faculty with 30 years of service include: Charlene Kile, administrative assistant, Career Services Center
Stephen Naftilan, professor of physics
Barbara Schuhmann, assistant to the dean and office manager, Office of Admission
Eduardo Valdez, cook, Collins Dining Hall Staff and faculty with 45 years of service include: Gerald Bradley, associate professor of mathematics
Charles Lofgren, Professor of American History and Politics
Lastly, Cheva Garcia, food service worker in Collins Dining Hall, will be recognized for her record-setting 60th anniversary with the College, having joined the staff when CMC was barely five years old.
Dean Hess will also recognize the following faculty awards:
Robert Valenza, Dengler-Dykema chair of mathematics and the humanities received the Glenn R. Huntoon Award for Superior Teaching;
S. Brock Blomberg P'13, dean, Robert Day School of Economics and Finance, Peter K. Barker '70 Professor of Economics and George R. Roberts Fellow received the G. David Huntoon Senior Teaching Award;
Jerome H. Garris, vice president for special projects and senior associate dean of the faculty was presented with the Presidential Award for Merit; and
Paul Hurley, professor of philosophy, received the Roy P. Crocker Award for Merit.
The 2011 Exceptional Service Award recipients will also be recognized. Kace Kush, access system manager, and Elizabeth Morgan, registrar and director of institutional research, received the 2011 awards in May.