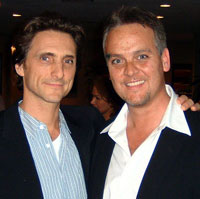 Assistant professor of religious studies Gast?n Espinosa will speak at the National Press Club, Washington, D.C., on Monday, Dec. 12 on the topic of Cultural Influences of Latino Religions and Politics. The presentation will include a screening of actor and writer Oscar Torres' award-winning 2004 feature film Voces Inocentes (Innocent Voices), co-hosted by Torres, Espinosa, and film producer Lawrence Bender.
Monday's event, presented by the Foundation for American Communications (FACS), will focus on Understanding Cultural Influences in Latino Politics and Religion. Espinosa (pictured with Bender, left) will address demographic shifts in the area of Latino politics and religion in the United States. Following a screening of Innocent Voices, he will then moderate a discussion with Torres and Bender about the film's genesis and reception.
Torres visited CMC in October for a screening and discussion of his film at the Marian Miner Cook Athenaeum. The movie is based on his childhood struggles to avoid conscription in his native El Salvador during the civil war.
Following its release, Innocent Voices earned several awards in the international film festival circuit, including Best Feature Film at the 2005 Berlin Festival, and was Mexico's entry for the 2005 Academy Awards.