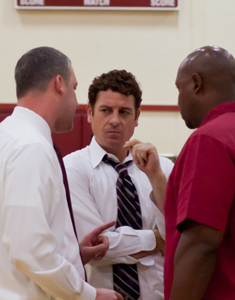 Men's basketball coach Ken Scalmanini is one of the 10 finalists for the Glenn Robinson National Coach of the Year Award. Scalmanini led the 2012 Stags to a team record of 25 wins (versus a team record low of three losses) and their fourth consecutive SCIAC title. CMS also won the SCIAC Tournament title for the third time in four years. The Stags, who opened the season with a team record of 15 consecutive wins, lost in overtime to the defending national champions, Saint Thomas, in the NCAA Championships.
Scalmanini, who just completed his 14th year as head coach, is 240-120 (.667) overall in his career. He is 145-51 (.740) in SCIAC play and his teams have won six SCIAC titles.
The Glenn Robinson Award, presented annually to the top Division III basketball coach, is named in honor of the Franklin & Marshall head coach. With 805 wins, Robinson is currently twelfth on the all-time wins list. He has taken F&M to the NCAA Division III tournament 22 times. Robinson guided the Diplomats to the Division III Final Four in 1979, 1991, 1996, 2000 and 2009. This season, he picked up his 23rd 21-plus win season.
The winner will be announced at the CollegeInsider.com awards banquet on March 30 in New Orleans, the site of the men's NCAA Basketball Championship. Here is a look back at the 2012 Stags after their 15th consecutive win to start the season.