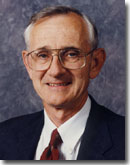 An informal dinner for the Class of 2010 with CMC President Emeritus Jack Stark '57 GP'11 will be held at 5:30 p.m. on Monday, March 3 in Parents Library at the Marian Miner Cook Athenaeum. Presented by the CMC Alumni Association, the evening provides current sophomores the opportunity to partake in an intimate conversation with Stark, who will present a lesson in, and answer questions about, CMC's history and traditions based on his years as an early student and 29 years as president of the College.
Seating is available on a first-come basis. The Athenaeum is located at 385 East Eighth St., at the intersection of Eighth and Amherst streets in Claremont.
Reservations for dinner are required: https://online.cmc.edu/NetCommunity/SSLPage.aspx?&pid=681&srcid=227.