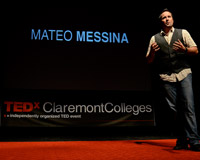 In a matter of days before classes broke for summer, 75 tickets to the 2012 TEDxClaremontColleges "Transforming Expectations" event on Sept. 29 at Garrison Theater were sold. Not bad considering that ticket sales were based solely on word-of-mouth, and that the names of the speakers for the event haven't been announced.
That will change over the coming weeks, leading to the start of the fall semester, says this year's main organizer Sam Spurlin, a Claremont Graduate University student. Spurlin is in the process of nailing down the list of speakers for the 2012 TEDxClaremontColleges event, and will begin releasing their names, a couple at a time, throughout the summer. As of now, the list of speakershovering at 16is double last year's, an intentional move that will yield an all-day program, rather than a short event.
Unlike last year's ticketing process, which required a guest application and screening process, sales this year are simply on a first-come basis. Prices are $25 for students, and $50 for faculty, staff, and members of the community. Scholarships also are available for students. About 300 tickets have been released for the first wave of salesthe other half, another 300, will be held for purchase when students and new freshmen return in the fall.
TEDxClaremontColleges is an independently organized event licensed by TED, and takes place from 8 a.m. to 6 p.m. on Saturday, Sept. 29 at Garrison Theater. About TEDxClaremontColleges TEDxClaremontColleges is an all-day conference featuring 16 speakers presenting 18-minute or less talks on an array of topics that span technology, science, art, and culture. The program features regular breaks to interact and have conversations with other attendees as well as the speakers. The focus is on sharing "ideas worth spreading" and hopefully creating the momentum needed to positively impact the world. About TEDx, x = independently organized event
In the spirit of ideas worth spreading, TEDx is a program of local, self-organized events that bring people together to share a TED-like experience. At a TEDx event, TEDTalks video and live speakers combine to spark deep discussion and connection in a small group. These local, self-organized events are branded TEDx, where x = independently organized TED event. The TED Conference provides general guidance for the TEDx program, but individual TEDx events are self-organized. (Subject to certain rules and regulations.) About TED TED is a nonprofit organization devoted to Ideas Worth Spreading. Started as a four-day conference in California 25 years ago, TED has grown to support those world-changing ideas with multiple initiatives. The annual TED Conference invites the world's leading thinkers and doers to speak for 18 minutes. Their talks are then made available, free, at TED.com. TED speakers have included Bill Gates, Al Gore, Jane Goodall, Elizabeth Gilbert, Sir Richard Branson, Nandan Nilekani, Philippe Starck, Ngozi Okonjo-Iweala, Isabel Allende and former UK Prime Minister Gordon Brown. The annual TED Conference takes place each spring in Long Beach, Calif., along with the TEDActive simulcast in Palm Springs; the annual TEDGlobal conference is held each summer in Edinburgh, Scotland.