Gloria Allred, prominent lawyer and activist known for her work on behalf of women's rights and rights of those discriminated against, spoke at the Athenaeum on Monday, Sept. 23. Allred's talk, titled "Women's Rights and Women's Wrongs – Sexual Harassment in the Workplace and Sexual Assault on College Campuses," can be viewed in its entirety above.
Statistician-extraordinaire Nate Silver spoke to a packed audience at the Athenaeum on Thursday, Sept. 19, about how we look at data and information, sharing insights from his famously accurate predictions of the state-by-state outcomes of the 2012 Presidential election, and conveying some best practices for accurately analyzing and using data and information, separating the "signals" from the "noise."
September 12th marked the 30th anniversary of the opening of the Athenaeum. Read these excerpted remarks presented at the Athenaeum on that date by Athenaeum fellow Andrew Willis '14 on the venerable institution's history and what "The Ath" has meant to CMC since its founding:
Former White House speechwriter and Deputy Domestic Policy Advisor, Eric Liu spoke at the Athenaeum on Thursday, September 12. The title of his talk was  "Democracy is for Amateurs."
Speaking to an audience of mostly CMC freshmen as this year's freshman class speaker, Liu began with the question "What does it mean to be a citizen?"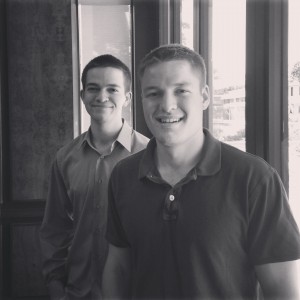 Andrew (left) and Ben. Yep. Their jobs as Ath Fellows are pretty sweet.
Benjamin Tillotson '15 and Andrew Willis '14, new Ath Fellows for the Marian Miner Cook Athenaeum, hope to book a diverse and interesting group of speakers when they begin their stint for 2013-2014.
Pages