A second-year CMC scholar-athlete is sharing her passion for lacrosse with girls in Uganda, both to encourage the development of the sport and to empower her young pupils.
Kira Weiss '20, a defender on the Claremont-Mudd-Scripps lacrosse team, has been traveling to Africa every summer for nearly half her life, tagging along with her family and then working as a volunteer with FundaField, a nonprofit organization started by her brothers Kyle Weiss '15 and Garrett Weiss.
For the first time in its history, the CMS women's volleyball team won the NCAA Division III national championship. Led by a group of seniors who advanced to the NCAA quarterfinals as freshmen in 2014, the determined Athenas swept top-seeded Wittenberg University in the championships match on Nov. 18 in Grand Rapids, Mich.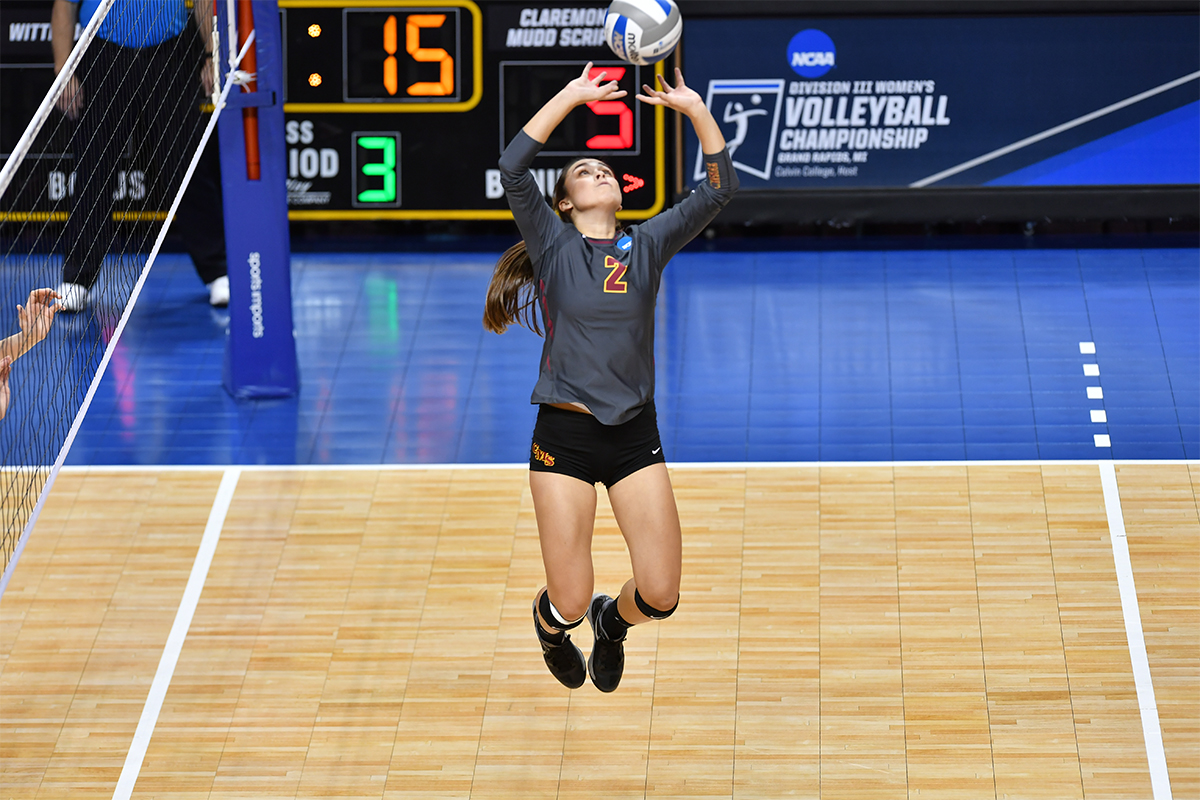 The Claremont-Mudd-Scripps volleyball team made history by sweeping Wittenberg University to win the NCAA Division III Championship Saturday in Grand Rapids, Mich. It is the first NCAA team national championship for women's athletics at CMS.
The volleyball team's previous best finish was in 2014 when the Athenas reached the NCAA quarterfinals
For Clara Madsen '18, the close of the NCAA tournament this week will not only mark the end of her college volleyball career, but also a chapter in her family's story.
For two seasons, Madsen and her sister Phoebe '20 have played alongside each other for Claremont-Mudd-Scripps, which defeated Gustavus Adolphus in the NCAA Division III quarterfinals Thursday in Grand Rapids, Mich.
The Madsen sisters have played volleyball together since their high school days in Santa Barbara. They reunited on the court and on campus last year.
A tremendous group of five Athenas and Stags are being inducted into the Claremont-Mudd-Scripps Alumni Association Athletics Hall of Fame this year. The induction ceremony is scheduled to take place on Saturday, Nov. 11 at Claremont McKenna College's Marian Miner Cook Athenaeum. For those who would like to attend, please register online.
From new student orientation to preseason sports practices, the Claremont McKenna College campus was bustling in mid-to-late August with activity as the 2017-18 school year drew closer. The first day of classes was on Tuesday, Aug. 29, and just a few days after that, new seasons began for the majority of Claremont-Mudd-Scripps' seven fall sports teams.
Pages