Introductory Remarks at Bay Area Reception in Honor of President Gann, by Shree Pandya
Greetings, world.
A few weeks ago, I had the opportunity to introduce President Gann at a Bay Area reception honoring her service to CMC. Steve Siegel, our fantastic Silicon Valley Program director, has since realized that the speech I gave that night is the closest that I'm ever going to get to writing an actual blog post for the SVP.
Bless you, Steve.
So in lieu of a coherent blog post, you can have my remarks instead. The first part of my speech talks about the Silicon Valley Program. The rest of the speech applauds Pam Gann's tenure at CMC, embarrasses some of my friends on the program, and includes some boring stuff about me.
Introductory Remarks at Bay Area Reception in Honor of President Gann Shree Pandya '14
April 3rd, 2013
My name is Shree Pandya, and I'm a junior on the Silicon Valley Semester Program. As the video we just saw indicated[*], this is a relatively young program. We're the second semester of students to participate, so we're not quite guinea pigs, but we're close.
There are 11 of us on this program. We represent different members of the Claremont Consortium: 8 of us are from CMC, 2 from Scripps, and 1 from Pomona. We also come from all sorts of academic backgrounds – from economics, to graphic design, to government, and engineering. What unites us all is that we're attracted to what Silicon Valley represents: innovation. We're all here to learn.
So, what does our learning consist of? There's a full-time internship, two classes, and an independent study project. To illustrate, allow me to walk you through a week in my life as a SVPer[†].
I live with three other SVPers in the city, since our internships are located here. From Monday to Friday, I wake up at 6:30 AM[‡] to nature's version of the alarm clock – the sounds of sledgehammers pounding into concrete.
It's a 10 minute walk along the Embarcadero to my office, Alpine Investors, a middle market private equity firm. I'm a rarity of sorts within the group, since the bulk of our students are at technology companies across the Bay Area. Regardless of where we're at, though, as full-time employees, we have the chance to do some really meaningful work -- such as marketing, financial analysis, and programming -- across a range of industries. For example, we've got two students at eBay's Geo Expansion Team who will be traveling to Mexico soon for a focus group project, learning about Mexicans' online shopping behaviors and needs. Since I work in a small finance firm, all hands are on deck. No one day is the same in terms of what I do…or the hours I have. It's unpredictable, but exciting because I'm guaranteed to learn something new every day[§].
The day doesn't end after work does. It's just getting started. See, alongside our internships, we have a semester long independent study project, which is a hands-on opportunity to pursue our passions. In my case, I'm teaming up with one of our incredibly talented Scripps students, a programmer named Briana Smith, to tackle the music industry. (She's the one sitting in the front row and glaring at me.) We're both musicians who have always wished that there were more tech-enabled solutions for collaboration...so over the course of the semester, we've taken the opportunity to (1) see what services aren't being adequately offered within the music industry, (2) come up with a product that addresses that, and (3) figure out how the heck to monetize it. Even if our project doesn't go anywhere, we are growing as entrepreneurs in the heart of entrepreneurship: Silicon Valley.
Now, our two classes are on Saturdays. One, Innovation and Marketing, is taught by Professor Constance Rossum; the other, Industrial Organization, is taught by Darren Filson. Our classroom is at the Google campus in Mountain View and, I've got to say it – it's a cool place. I'm not sure what we love more: the ping pong table or the caffeinated water[**].
And finally, on Sundays, we take the chance to sleep in.
Now, I'd be lying if I said our schedule wasn't tiring – but it's worth it. CMC's motto is: "Civilization prospers with commerce," and here, in the heart of commerce -- of businesses that are constantly innovating and changing -- we're learning every single day. Our environment has practical work experience, intellectual thinking, and creative endeavors: in short, a liberal arts education. It might not be the liberal arts of popular conception, but it is the liberal arts of the future.
And there's really one person we need to thank for that, the forward-looking and ambitious thinker behind this entire experience: President Gann. During her time at CMC, she has constantly worked to make CMC the innovative college that it is today.
President Gann, as cliché as this sounds: I wouldn't be the person I am today if it weren't for your efforts.
As a first generation American from Sugar Land, Texas, I probably wouldn't have even heard of CMC if you hadn't worked tirelessly to promote CMC nationally. I also wouldn't have been able to come to this wonderful college if it weren't for the Seaver Scholarship program you created; it gave me the freedom to pursue an education here without having to worry about how I'd pay for it.
Furthermore, President Gann, I also certainly wouldn't have had the chance to see the world or work abroad if it weren't for your constant emphasis on global learning. Before CMC, I hadn't ever really been abroad, save for occasionally visiting my relatives in India. However, with funding from CMC, last summer, I had the privilege of interning at the U.S. Mission to NATO in Brussels. In May, thanks to an opportunity that you worked to create, I'll be flying to Hong Kong with Professor Pei for a project related to security in Asia.
Finally, President Gann, I thank you for your efforts to recruit students from all around the world -- from Korea, the Philippines, India, Mexico, and China – because they are some of my closest and dearest friends today. One of them, Hye Won Chung, sits in the audience today -- now she's the one glaring at me. She's one of CMC's best students from Korea, a fellow Seaver scholar, and she never fails to astound me with what she accomplishes. Thanks to you, President Gann, I have peers from all around the world like Hye Won who inspire me to achieve more.
All in all, I wouldn't be standing at this podium on an amazing program, proudly heading into my senior year at the best liberal arts college in the world, if it weren't for President Pamela Gann. And with that, I'd like to welcome her to the stage.
[End remarks.]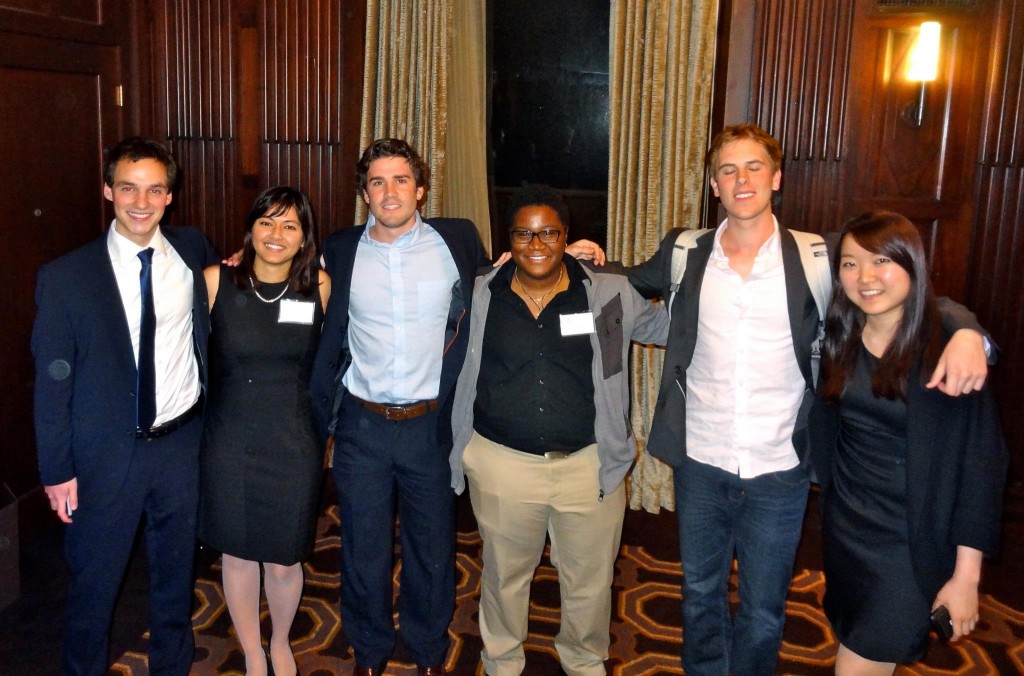 Here, have a picture of us SVP folks. In case you couldn't tell from my last name, Pandya, I'm the Indian girl on the left. To the left of me is Chad Newbry. To my right are Danny Serra, Briana Smith, Matt Taylor, and Hye Won Chung.
Shree Pandya Claremont McKenna
Class of 2014
---
[*] There was a video. It was adorable. BACK TO POST
[†] Contrary to popular belief, "SVPer" doesn't roll off the tongue quite like "CMCer" does. We're still trying to figure out a better term. We've already ruled out "Silicon Valley-ers" for sounding too much like "Valley Girls." BACK TO POST
[‡] It has come to my attention that I'm one of the earlier risers on the program. Some of us get to sleep in, sometimes past 9 AM. I'm looking at you, Xiaoyin. BACK TO POST
[§] I'm not even kidding. You would not believe how much I learned about the clairvoyant industry last week. BACK TO POST
[**] I can't believe I forgot to mention the espresso machine. That's pretty awesome too. BACK TO POST