Quick Check-in at the Halfway Point, by Sophia Patrico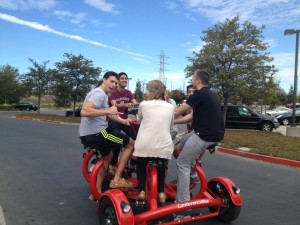 Greetings from Mountain View! I can't believe we are already halfway through the program.
For the students coming up here in the Spring or those thinking about applying in the future, here are some of my observations eight weeks into SVP:
1. Amazing internships. We love our internships. I think all of us up here would agree that the internships make the semester.You will be spending at least 40 hours a week at the office, so it's important to find a job that fits your interests. Talk to current interns at the company to get a sense of the culture and the type of work you might be doing.
2. Commuting. Some of us work very close to the apartments; others spend about 3 hours a day commuting. Think about whether the commute would be an issue for you and target companies with that in mind. The apartments are close to the train station and freeways, which makes getting to work easier.
3. Not your typical classroom. We have class on Saturdays at Google, which is only a 5 minute drive from the apartments. Dance Dance Revolution, ping pong, a massage chair, bikes, and snacks keep us entertained on our breaks!
4. Alumni events and more. We have a Fun Committee responsible for making sure we have some fun during the semester. Events so far have included dinner with Jonathan Rosenberg, a Giants game, the Space Shuttle Endeavor flyover at NASA Ames, a SF Blue Angels air show viewing at Carol Hartman's, and an Idea Jam at Intuit.
5. Don't get sick. Trust me. Make sure you leave time in your busy schedule to get enough sleep and take care of yourself if you feel something coming on.
Also, a shout-out to anyone interested in education and technology…
Check out
Edmodo
! It's an awesome place to intern (I am lucky enough to be there this semester). You will get to do meaningful work from Day 1, work with great people (including lots of CMC alums!), man your own projects, and might even get lucky enough to go on a Support Team field trip to SF to see a drag show. The company and its user base are growing very quickly, so it is an exciting place to be working.
Sophia Patrico CMC
Class of 2014