Reflections on ITAB's Founder, Bart Evans '70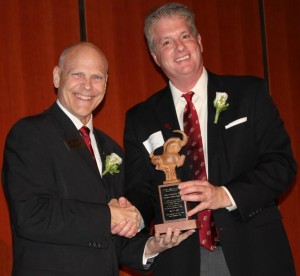 Your name badge is to be worn on your right side.
Men should learn to tie a double Windsor knot.
When presenting a gift formally, hand the gift from left-hand to left-hand, while shaking from right-hand to right-hand. Pause to look directly at the camera. Take charge of the situation with your host.
Always carry calling cards and present them to individuals with whom you have had meaningful conversations. At the end of the evening, it's the only evidence that you were at the event.
If you promise to provide something to someone you've met, follow-up immediately.
When asking a question, never say "you guys." Rather, use the company name in the question, such as, "When considering privacy issues, how does Google protect individuals and collect useful data?"
These are just a few "Bart-isms" from "Bart's Boot Camp" related by Bart Evans '70 to the Silicon Valley Networking Trip students during the first night of the trip that he created, now heading into its tenth year. Bart insisted that mastering these and other social graces would cause students to stand out—in a good way—and would serve them well in life.
My name is Steve Siegel, and I have the pleasure of administering two of the Silicon Valley programs Bart inspired over the last decade at CMC. "My name is…" and not "I'm…" is another Bart-ism. As he would say, "You are far more than just your name."
Inevitably, during a corporate visit Q & A session, a student would ask a "you guys" question (see bullet 6, above). I would turn to Bart just to see the look on his face: a mixture of amusement and disappointment that revealed both the understanding that "kids will be kids" and the determination that "I'll get them all on the same page by the end of the week." Sure enough, by the end of the week, most students who witnessed a "you guys" transgression would also turn to Bart to share his bemusement with the offending student.
Bart insisted that students wear dark business suits, white shirts, and neckties (for men; see double Windsor knot in bullet 2, above)—even in Silicon Valley—as a show of respect for our hosts. Picture Col. Evans leading his platoon of Claremont McKenna College undergraduates through pre-IPO Facebook—all of us in dark suits—looking either like lawyers or bankers. Facebook heads would turn and wonder, "who are these people?" Bart could not have been more pleased…except for the time when the CEO of Sun Microsystems mistook the CMC undergraduates for Wharton MBAs based on their appearance and the quality of their questions.
Bart repeated both stories, with joy, every year.
Just like CMC's eponymous trustee Donald McKenna, Bart loved CMC students. He challenged them, regaled them with stories, provided loads of invaluable advice, drank with them, responded to their questions, and simply cherished being around them. Even in January 2014 as his fight against pancreatic cancer was in full swing, Bart rallied and attended every session of our 5+ day excursion. Except for the occasional moments of brutal honesty, you'd never know Bart was in a fight for his life. He simply loved being with those students on that trip.
I have recounted a number of characteristics that made Bart Evans a great friend to CMC students. What I appreciated most about Bart personally is that I always knew where I stood with him. When he thought there could be improvements, he would be direct, and would offer constructive criticism—often in the form of detailed observations set out in outline form with the precision of an engineer / Army colonel. He would invite critique, and listen to comments, as well. When programs went well, he would be quick with a kind word—and then move on to tackle the next objective.
I count myself among the fortunate who had an opportunity to work with Bart. His lessons will live on for some time to come in the minds and the hearts of the students and staff who took the time to listen.
Stephen M. Siegel '87 Director, Silicon Valley Program
Claremont McKenna College steve.siegel@cmc.edu www.cmc.edu/svp