Silicon Valley Semester Program: Two Monitors and One Pair of Nikes, by Joe Newbry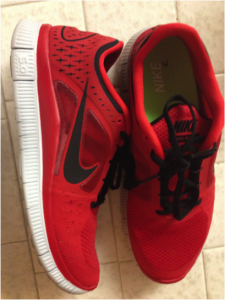 I don't have any idea who, if anyone, will read this post. So with this in mind I'll try and capture the essence of the first monthish of the Silicon Valley Semester Program in an interesting and insightful way.
For the first month of the Silicon Valley Semester Program I had one pair of shoes. This wasn't a problem for me but as one of my classmates stated "Joe, if you have more monitors that pairs of shoes it's time ….to get another pair of shoes". I have since purchased another pair of comfy nikes. (See photo on left)
On a slightly more serious note my work as a product management intern at Zynga is going well. Farmville will never be the same. End of story.
For those of you who are wondering, the perks at work are great. Like many other companies in Valley there is a free gym on site, free lunch and dinner, and free massages. And yes anyone can bring their dog to work.
The only downside to all this is my 2 hour commute from Mountain View to San Francisco and from San Francisco back to Mountain View. Day after day this hour in and hour out business gets tiring.
Tourist side note: if you want to experience the diversity that San Francisco can offer take the Cal Train out of the city right after midnight…
And now a shameless plug for the program I'm on in poetic form:
Selling virtual cows and sheep
Take a break to pet a poodle
Homework hurried; in a heap
Great lunch: noodles

The poem above should highlight three things. I shouldn't write poems late at night, I equate writing poetry with rhyming a few words, and I'm having a great time on the program!
Joe Newbry CMC
Class of 2014